1. Ölüdeniz Plaji: Dive into a Gorgeous Blue Mediterranean Lagoon
A magnet for locals and tourists alike, Ölüdeniz Plaji is the resort's main beach and, as town beaches in the Mediterranean go, it's an absolute stunner. Ölüdeniz Plaji is famous for its pure, turquoise and aquamarine waters which exert an irresistible pull on visitors. It may not be a sandy beach, but when the Turkish sun bakes the city, there's nothing as satisfying as diving into the warm waters of the lagoon. Thus, when you get to Ölüdeniz, you'll soon find yourself splashing around.
2. Babadağ Daği: A Paragliding Paradise
Babadağ Dağı is around two miles east of Ölüdeniz, but nobody who visits can miss it. Known to the Greeks and Romans as Mount Cragus, this mountain towers almost 2,000 meters over the resort, and it's a major leisure destination. Those who feel energetic can climb to the summit for majestic views, while anyone with a yen for extreme adventures can take advantage of the mountain's exceptional paragliding opportunities. Either way, you're guaranteed incredible views.
3. Mavi Lagün: No One has the Blues at this Lagoon
Literally translated as the "Blue Lagoon", Mavi Lagün is separated from the wider Mediterranean by a narrow peninsula, and has some of the most incredibly blue waters in the world (hence the name). Ringed by beach resorts, seafood restaurants, and stretches of unspoiled coast, the lagoon is a fine place to sunbathe, snorkel and swim, rent paddle boats, or pull up a lounger and soak up some ways. There's safe swimming for kids and sublime scenery, as well as wall-to-wall sunshine for most of the year.
4. Ölüdeniz Tabiat Parki: Beaches, Peace, and Blissful Seclusion
Ölüdeniz Tabiat Parkı stretches along the western seafront and the lagoon shore. It's a beautifully preserved, peaceful nature reserve within walking distance of the town's main shopping and dining strip. Unlike the main beach, access to the park comes with a small fee, but most visitors agree that the cost is well worth it, if only to protect its sense of isolation and natural perfection against the more conventional tourist delights of the city to the east.
5. Butterfly Valley: A Valley of Natural Delights
Located a few miles south of Ölüdeniz along the coastal highway, Kelebekler Vadisi translates to "Butterfly Valley" in English, and is an incredible natural attraction. As the name hints, our winged insect friends are the stars here, with more than 80 species calling the valley their home. But even if you don't care about butterflies, the spectacular waterfall, beach, and relaxed, bohemian vibe of the environmentally-aware community creates an enticing, enjoyable destination. It's truly like stepping back into a world before pollution and development, where nature and people live in harmony.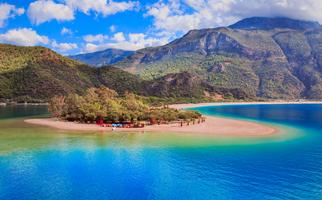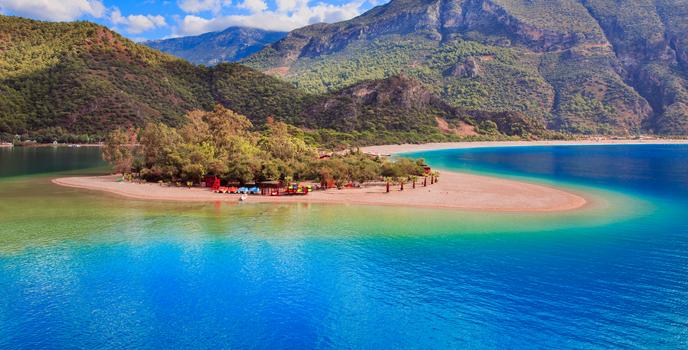 ;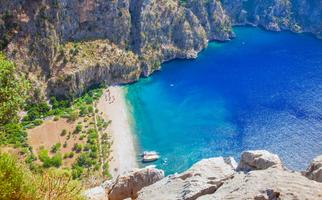 ;