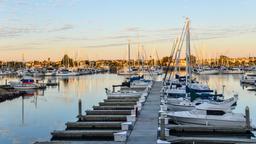 Oxnard car rentals
Search hundreds of travel sites at once for car rental deals in Oxnard
Oxnard, CA, United States
Oxnard car rental information
| | |
| --- | --- |
| Pick-up location | Oxnard |
| Rental locations | 7 |
| Airport locations | 5 |
Reviews and directory for self drive car rentals in Oxnard
Enterprise

8.4 Excellent (5 reviews)
╳
Enterprise reviews
Car hire locations
Enterprise
Locations in Oxnard
1991 E Ventura Blvd Ste B
+1 805 604 9838
| | |
| --- | --- |
| Monday | 07:30 - 18:00 |
| Tuesday | 07:30 - 18:00 |
| Wednesday | 07:30 - 18:00 |
| Thursday | 07:30 - 18:00 |
| Friday | 07:30 - 18:00 |
| Saturday | 09:00 - 13:00 |
| Sunday | 00:00 - 00:00 |
10.0 Excellent
3 Feb 2017
Great service
Pros:
It was fast. I was in and out in 15 minutes.
Cons:
There was nothing to dislike.
8.4 Excellent
13 Feb 2017
Cons:
Vehicle should have been washed outside. Inside was clean and vacuumed,
9.2 Excellent
28 Apr 2019
Cons:
Gave me the car with a completely empty tank
8.8 Excellent
21 May 2019
Pros:
Staff was amazingly friendly. Super personable and easy to work with.
Cons:
I didn't realize I'd need to show proof of insurance, which took me 5 minutes extra to try to figure out how to get that online.
Hertz

╳
Hertz reviews
Car hire locations
Hertz
Locations in Oxnard
2011 Auto Center Dr Unit 103
+1 805 485 4239
| | |
| --- | --- |
| Monday | 07:30 - 18:00 |
| Tuesday | 07:30 - 18:00 |
| Wednesday | 07:30 - 18:00 |
| Thursday | 07:30 - 18:00 |
| Friday | 07:30 - 18:00 |
| Saturday | 09:00 - 12:00 |
| Sunday | |
2889 W. 5th St.
+1 805 985 0911
| | |
| --- | --- |
| Monday | 08:00 - 18:00 |
| Tuesday | 08:00 - 18:00 |
| Wednesday | 08:00 - 18:00 |
| Thursday | 08:00 - 18:00 |
| Friday | 08:00 - 18:00 |
| Saturday | 09:00 - 15:00 |
| Sunday | 09:00 - 14:00 |
Poor Experience
Cons:
I reserved a car to drive It of state for a job. When I reached there at 8 in the morning, the lady behind the counter asked us if we would mind waiting a bit because they had no cars in, but they were expecting some returns soon. I didn't know she wanted is to keep on waiting. She was looking through her computers for I'm not sure what, but after about 15 minutes my sister and I just asked her if she could just call us when she received any information on when we can pick a car up. At noon she called just to say she still didn't have anything yet, but might have something about 2 or 3 pm. She never called us back and we haven't heard from her since.
8.0 Excellent
17 Feb 2017
Effective Customer Service
Pros:
Agent recognise and treat you as a customer
Cons:
They wasn't anything to dislike
Great value, unprofessional service.
Pros:
The car ran well and was in great condition. I also felt like the value was very good.
Cons:
I had a pickup time of 8am and was on a very tight schedule. When I arrived promptly at 8am, no one was at the counter. Since my pickup location was an airport, there were competitors counters on each side of the Hertz counter. One of the competitors told me the Hertz representative was outside washing the vehicles. I waited politely and 10 minutes later, she walked in. She told me that despite my pickup time of 8am, they currently had no cars available for pickup, and they would have to be driven in from a neighboring city which would take 20 minutes. Despite my tight schedule, I waited. When they finally arrived, I was told the vehicles had to be washed. Okaaayyyy, I thought, so I waited another 20 minutes! When the soaking wet vehicle was finally ready, the Hertz Rep walked right into the office and tried handing me the key. I hadn't yet signed any paperwork so I had to remind her of this. So finally an hour after my pickup date, I got to get on the road. The service was just as unprofessional upon drop-off. I walked in and the same lady asks "did you fill up the tank?" And "did you get in an accident?" I answered yes and no respectively, and she tells me "okay good, I'm too lazy to go outside and check". Really? She didn't do a walk around upon pickup or drop off and was incredibly unprofessional.
Pros:
Customer service was great. Everything went smoothly. Oxnard staff was very friendly and helpful
10.0 Excellent
30 Apr 2017
Customer Service
Pros:
Great customer service at Oxnard Airport. She was cheerful and had me on my way in very little time.
Cons:
This location was closed when I went to pick up my rental. There hours are listed till 7pm and they were gone at 6. Had to rent a vehicle from another company.
Credit card?
Cons:
Very hard to book, online set up is confusing. I was willing to pay 30 extra for being under 25 years of age but then was told I wouldn't be able to pick up the car unless I had a credit card under my name even though I paid with my debit card and they still took out the money and I haven't gotten my refund. I do not own a credit card and it was very confusing to have to call different numbers to ask for my 60 bucks back. Waist of time. Would never use again.
Pros:
My car reeked of cigarette smoke. There were no other cars available at that first location so I drove an hour with the windows open to another location to get another car.
Cons:
One of the agents made a mistake on my contract and closed it out in the middle of my rental. So when I tried to return the car, it took about 30 minutes as the agent couldn't find me in the computer. He ended up renting the car to me again and then closing it out. Was not a smooth transaction.
Great value
Pros:
Convenient features such as satellite radio for long road trip, good on gas and spacious.
Cons:
Received a bit dirty, windshield wipers needed to be replaced and no windshield wiper fluid.
10.0 Excellent
17 Mar 2017
Happy Discovery
Pros:
So glad to find this rental car outlet not too far from home. Service from pickup to return was quick and friendly, vehicle was great and price was fair.
Dollar

╳
Dollar reviews
Car hire locations
Dollar
Locations in Oxnard
2889 West 5th Street
+1 805 984 7870
| | |
| --- | --- |
| Monday | 08:00 - 18:00 |
| Tuesday | 08:00 - 18:00 |
| Wednesday | 08:00 - 18:00 |
| Thursday | 08:00 - 18:00 |
| Friday | 08:00 - 18:00 |
| Saturday | 09:00 - 15:00 |
| Sunday | 09:00 - 12:00 |
No one home
Pros:
Remote agent made a cab call for us.
Cons:
No one at the desk @ 4:30 on a Saturday Afternoon
10.0 Excellent
17 Oct 2016
Cons:
In oxnar just deliver the car and the reception was friendly
10.0 Excellent
12 Jan 2017
Customer Service at its best
Pros:
Cordial, professional, attentive, detail-oriented, responsive--what's not to
Store manager is dishonest
Cons:
During pickup the manager tried the old lines that give rental car companies a bad reputation. "We don't have that car in stock, but we have an upgrade available (Bait-and-switch method). Because it was booked less than 24 hours we can't guarantee a car is in stock, it's in fine print. (Liar, I read fine print, it's not there. That's Dollar's responsibility, not mine). If you don't want it than you can just cancel." It was late in the day and my Uber ride had already left, so I had no choice other than accept. Then the "upgraded" came out dirty and damaged. The car smelled like smoke and was covered in bugs.
NO INVOICE RECEIVED
Cons:
Did not receive an invoice for anything. No email to confirm. No statement for reference.
Pros:
Not a single thing.
Cons:
I would have preferred not to be ripped off over the gas level. I would avoid this place to anyone who wishes to rent a car.
Budget

╳
Budget reviews
Car hire locations
Budget
Locations in Oxnard
2889 West 5th Street
+1 805 382 8350
| | |
| --- | --- |
| Monday | 07:00 - 18:00 |
| Tuesday | 07:00 - 18:00 |
| Wednesday | 07:00 - 18:00 |
| Thursday | 07:00 - 18:00 |
| Friday | 07:00 - 18:00 |
| Saturday | 09:00 - 15:00 |
| Sunday | 09:00 - 14:00 |
EXPENSIVE
Pros:
It was really easy the dropoff procedure
Cons:
I told in my reservation to return the car until 3 pm and aparently they had someone waiting for my car since noon.
Overcharged
Cons:
We were quoted $41.97 and overcharged at drop-off $56.68. Wondering why?? yes tank was full.
Poor Customer Service in Oxnard, CA...disappointin
Pros:
I can't really say that there was anything I liked about renting from Oxnard.
Cons:
I paid for an upgraded car but what I was offered was something not as nice as what I paid for. I also mentioned my last rental car with them had ants inside it. I had to drop it off after hours so no one could verify that I wasn't making this up. The guy told me I could pay more if I wanted a better car. Ok, fine. I paid a little more and got a choice of a few cars. He didn't tell me the car I picked wasn't prepped for rental yet. I was trying to catch a plane and yet I had to wait for the car. The guy kept telling me it'll be at the front door soon. He would't get me a different car. He should have given me the upgrade for free but I suppose it didn't cross his mind. That's too bad as I won't be using Budget in the future. I'm certain the company doesn't care if I never use them again, but I wanted other people to know my experience.
Pros:
Very easy to drive into the Oxnard airport to drop off car rental that we drove from Los Angeles.
Cons:
There was only one employee on staff so the service was a little slow but acceptable. The employee was very friendly and jovial.
Pros:
Friendly staff, decent car
Cons:
We did not realize that insurance was not covered in the original price listed, so we had to make a last minute decision to include insurance and this doubled the cost. It was stressful to have to make that decision on short notice and the price was much higher than we would have even considered going in.
Cons:
Horrible customer service
8.0 Excellent
19 Oct 2017
Avis

╳
Avis reviews
Car hire locations
2889 West 5th Street
+1 805 382 8352
| | |
| --- | --- |
| Monday | 07:00 - 18:00 |
| Tuesday | 07:00 - 18:00 |
| Wednesday | 07:00 - 18:00 |
| Thursday | 07:00 - 18:00 |
| Friday | 07:00 - 18:00 |
| Saturday | 09:00 - 15:00 |
| Sunday | 09:00 - 14:00 |
10.0 Excellent
12 Aug 2018
Incredibly helpful!
Pros:
The man at the Oxnard counter did everything he could to make our trip go well, even after we had a number of delays before we arrived at Avis. Great service!
Cons:
There was nobody there when I dropped off the car and there was no Avis Dropbox for the keys
Cons:
After not having a clear designated box to drop off the keys, when I called Avis, I had a pretty arrogant customer representative that after explaining the situation of the drop off threatened me that I will pay for the rental till the car was found - altho car was delivered in time to drop off location.
Easirent

Easirent
Locations in Oxnard
Oxnard Airport
| | |
| --- | --- |
| Monday | 00:01 - 23:59 |
| Tuesday | 00:01 - 23:59 |
| Wednesday | 00:01 - 23:59 |
| Thursday | 00:01 - 23:59 |
| Friday | 00:01 - 23:59 |
| Saturday | 00:01 - 23:59 |
| Sunday | |
45 travellers who rented a car in Oxnard gave the car agency they used an average rating of 6.7
Car rental locations in or near Oxnard
When to book a rental car in Oxnard
Average daily price per month
Car hire prices as pick-up date approaches
Top tips for renting a car in Oxnard
Book your rental car in Oxnard at least 1 day before your trip in order to get a below-average price
FAQs about renting a car in Oxnard