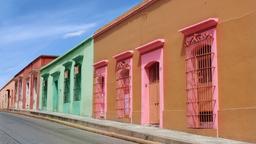 Oaxaca car rentals
Search hundreds of travel sites at once for car rental deals in Oaxaca
Oaxaca car rental information
| | |
| --- | --- |
| Pick-up location | Oaxaca |
| Rental locations | 17 |
| Airport locations | 11 |
Reviews and directory for self drive car rentals in Oaxaca
╳
Europcar reviews
Car hire locations
Europcar
Locations in Oaxaca
Carretera Oaxaca - Puerto Angel
+52 951 143 8340
Matamoros 101 Letra B
+52 951 516 9305
Pros:
The car was brand new, compact, and perfect for the Mexican roads.
Cons:
The online booking price was very misleading. When we landed we were quoted a total rental price of over seven times our online booking price, once the mandatory Mexican insurance had been factored in. We balked at this and then the operator miraculously adjusted the price to only three times our online rental price, making the whole transaction feel arbitrary and opportunistic. When returning the car (Nov. 7, 2017), there were union blockades of all major highways into and out of Oaxaca (https://www.garda.com/crisis24/news-alerts/77446/mexico-major-protest-in-oaxaca-november-7) and gas stations along the road to the airport were closed or inaccessible. This made it impossible to refill our tank, while the 15 minute drive from town to the airport took almost two hours, and we made it to the airport only half an hour before our scheduled flight. Not only were Europcar staff completely unsympathetic, but they insisted on charging us a refuelling price five times higher than the normal fuel price. When I protested and, given the circumstances, offered to pay the gas station price, the staff suggested the price would change if I paid in cash, once again leading to feelings of opportunism. We paid the full quoted refuelling price using credit card and will take up this whole situation with Europcar.
Couldn't even find the small rip off print
Cons:
When I got Oaxaca Mexico airport and went to Europcar, the agent said that I needed written proof of insurance through my credit card . Since i didn't have the written proof he wanted to charge me about $400 extra on my $139 rental car. I asked him to show me where this was written in my contract. He said it was in a hidden link. I found the link and this insurance requirement was not there any where (that I could find). So I walked over to Hertz, and they said they would give me a similar car for $139, but they would put a $1500 hold on my credit card, which is reasonable. Meanwhile, the Europcar salesperson said he'd give me the car for only about $339. I was so angry with the poor service of the Europcar that I couldn't wait to write this review! Hertz did a fine job- I highly recommend Hertz. HOWEVER, I felt Europcar tried to me off. If Europe car clearly told me about the letter needed for insurance, then they would have received a much better rating. So beware with Europcar! I rented with Europcar in Europe and I did not have this problem.
Misleading rates
Cons:
The daily rate with insurance was 5x the published rate. Completely misleading.
Pros:
Car handled perfectly.
Cons:
The gas tank was not full when I received the car. Price from Kayak was perfect, but insurance were excessive (over 5x value of rental fee).
Pros:
they advertise falsely. disappointed but glad I didn't rent from them.
Sucked
Cons:
The staff was so rude, I didn't rent the car, cuz the dude was so stupid, and careless
8.0 Excellent
16 Nov 2017
Pros:
Everything went well customer services was helpful, the car was good I do, being the first time I use their services.
Cons:
One think I don't like is the time it's taking a lot of time to refound the co-pay /insurance that's charge on your credit card. Is that normal.
scam
Pros:
The real rate was 10 times what was quoted due to insurance. I've travelled to a lot of places and my credit card has always been accepted for insurance purposes. Made me not trust them.
Europcar was a shell - they did not deliver - avoid in Oaxaca, Mexico
Cons:
Europcar's car was not ready in Oaxaca, Mexico. They promised a car, but it did not show up. They then found a car from another agency that wound up being more expensive, a huge hassle to get, and had issues. I will never trust Europcar again.
Pros:
The person I dealt with at the counter was friendly and helpful. It's Europcar's policies that are the problem.
Cons:
I reserved a car months in advance at a good price. However, Europcar would not honour that price saying that CDW was compulsory. The first offer was $50 US per day which would have meant the total would be 4 times what I reserved. This input box isn't big enough to express my disgust.
╳
Alamo reviews
Car hire locations
Alamo
Locations in Oaxaca
Carretera Oaxaca - Puerto
| | |
| --- | --- |
| Monday | 07:00 - 23:00 |
| Tuesday | 07:00 - 23:00 |
| Wednesday | 07:00 - 23:00 |
| Thursday | 07:00 - 23:00 |
| Friday | 07:00 - 23:00 |
| Saturday | 07:00 - 23:00 |
| Sunday | 07:00 - 23:00 |
Matamoros 203-a
(951) 5012188
| | |
| --- | --- |
| Monday | 07:00 - 21:00 |
| Tuesday | 07:00 - 21:00 |
| Wednesday | 07:00 - 21:00 |
| Thursday | 07:00 - 21:00 |
| Friday | 07:00 - 21:00 |
| Saturday | 07:00 - 21:00 |
| Sunday | 08:00 - 16:00 |
Pros:
Car was nice, drove well.
Cons:
Insurance coverages more than doubled the initial price
Cons:
We went to pick up our rental. Not only did they not have a car for us but the staff were not helpful at all. NO VEHICLE WAS RENTED.
Cons:
There was no one at the drop off location and no instructions of what to do in that situation. Alamo customer service was not helpful and kept me on hold for 20 minutes before I hung up. We had to catch a flight so just ended up parking in a lot and leaving the keys at the counter.
Pros:
We missed our connecting flight from Mexico City to Oaxaca where we were suppose to pick up our car. We called that were going to be 6 hours late picking up car. Only to get there and the staff not being able hang on to a car for us. Never ended get car, none available for us.
Cons:
Maybe allowed the extended pick up time do to unforeseen circumstances. Offer options.
Pros:
Friendly, but not helpful.
Cons:
When we arrived to Alamo to pick up our reserves car, they informed us that they had no vehicles. Nor did any other Alamos in the city. Even thought they had my email and phone number, no attempt was made to tell me that there were no vehicles. We would have made other plans, but by then it ws 2 lat
Get what you pay for
Pros:
The price was the best that we found. It is located right inside the Oaxaca airport.
Cons:
They give a full press about insurance. I have automotive insurance personally as well as special rental coverage that comes with my credit card. But they pressed to a point that we almost went to the booth next door. When we finally agreed that we would take the responsibility for the car they tried to insist that they would keep the entire worth of the car as a hold on our credit card. We ended up talking them down but they still put a hold on the card that was more than what we agreed upon. At the end of the day, we were only charged the initial amount that was advertised and agreed upon that brought us to the company. So, it worked out. But it felt like we had to be on guard throughout the entire experience.
Hertz
3.1 Mediocre (10 reviews)
╳
Hertz reviews
Car hire locations
Hertz
Locations in Oaxaca
Carr.oaxaca-pto Angel Km 7.5
0180 0709 5000
| | |
| --- | --- |
| Monday | 00:00 - 23:59 |
| Tuesday | 00:00 - 23:59 |
| Wednesday | 00:00 - 23:59 |
| Thursday | 00:00 - 23:59 |
| Friday | 00:00 - 23:59 |
| Saturday | 00:00 - 23:59 |
| Sunday | 00:00 - 23:59 |
Centro Ado Av 5 De Mayo No 900
0180 0709 5000
| | |
| --- | --- |
| Monday | 08:00 - 21:00 |
| Tuesday | 08:00 - 21:00 |
| Wednesday | 08:00 - 21:00 |
| Thursday | 08:00 - 21:00 |
| Friday | 08:00 - 21:00 |
| Saturday | 08:00 - 21:00 |
| Sunday | 08:00 - 21:00 |
Car not available at time specified; price???
Pros:
Car was clean, air conditioned, and just big enough.
Cons:
We requested a small car. Were given the choice of eating 90 minutes, or getting a much larger SUV. We waited. Cannot tell if price charged was close to what had been indicated in reservation because of the various required add-ons (taxes & fees - not gas or insurance).
Cons:
Pick up was great! Drop off was more difficult. We had let the agent know we needed to drop off the car between 6 and 6:30AM. He gave us instructions to park in front of the airport. When we got to the airport there was no agent. We approached a number of people to assist us, nobody knew quite what to do. We had to check in for our flight, so were unable to sit with the car. The agent arrived just before the car was towed (thank goodness!). But everybody was very nice! The 7:30 flight to Houston is a regularly scheduled flight from that airport. It would be helpful to have the desk staffed earlier than 7:00.
Cons:
When I arrived I was told they had no more cars. Besides this, the man working at the desk was rude and mocking.
Experience
Cons:
Hertz was unable to respect my reservations because I was late due to my flight being delayed by a half hour. Hertz should have found another accommodation for my family of 5, instead they said I would have to take a car that was 4 times more expensive than the initial quote.
They gave my reservation away
Pros:
Nothing as I was not able to rent a car through Hertz... since it is the high tourist season they gave my reserved car away to someone else because I arrived 10 mins after the time i said I would arrive
Cons:
Everything.. they gave my car away and there were no others to rent since it is the high season
There was no car available. Was this a scam?
Cons:
The total lack of car availability was extremely inconvenient. The very low price of the daily rental should have been a tip-off to me that it was not a real deal. I cannot really fault Hertz for this, I believe Kayak has no idea about doing business in Mexico.
WARNING
Cons:
The roads are death traps, third world country roads at its finest. Animals on the road to Puerto escondido from Oaxaca city, it was a terrifying experience, wouldn't recommend it to no one. PLEASE do not drive these roads, no reception, ambulance, or any kind of proper medical attention in case of an emergency. You have been warned.
Bad they did not treated me well
Cons:
Too much money they charged me
Pros:
The staff told me "the wheels are broken" on the car I reserved and forced me to pay an additional 100.00$ US upsale on a larger vehicle.
Cons:
It would be nice to have available the car and price seen on Kayak. Hertz at this location should not be able to use online reservation services, it seems they are using them as a bottleneck to force travelers to pay premium prices
Cons:
Price online did not reflect actual price of rental car. Poor signage and instruction for car return.
Economy Rent a Car
2.5 Mediocre (12 reviews)
╳
Economy Rent a Car reviews
Car hire locations
Economy Rent a Car
Locations in Oaxaca
Calle 5 DE Mayo No. Colonia 203
+52 951 514 8534
Inside Oaxaca International Airport.
+52 951 514 8534
Not an airport pick up - misleading
Cons:
Rental office is not at the airport and hasn't been for about 3 years apparently. This is misleading and causing your website users wasted money in a non-refundable deposit and wasted time getting a rental from the airport. First and last time I'll use your website for car rental search and will certainly never use carrental.com again. Massive disappointment.
They didn't have a car for us
Cons:
There was no car available upon arrival. Also, the rental agency was not located at the airport as advertised but, rather in Oaxaca.
It didn't happen
Pros:
We didn't rent the car because liability was more than the rental and when we told them liability was supposed to be included in the rental they didn't budge.
Never got to rent the car.
Cons:
The gentleman wanted to take a picture of my credit card even after he took the deposit with my card when I refuse he got defensive. I had to talk to a manager he told me it's normal to take phone pictures I denied and he told me he wouldn't rent me the car. I still haven't received my refund.
What a SCAM!
Cons:
The limited information on our rental made us not be able to get the car or our money back. Turns out the "hot deal" we got was a scam for a car with more than double the price in the insurance alone. No number to contact anyone, and a relentless inability for a refund. We basically were scammed and won't be using this service EVER again, much less recommend. Booooo!!!
Don't know who to blame
Cons:
I picked a rental company based on presumed availability from the Oaxaca airport. Whether the website was unclear or just plain wrong, there was no kiosk at the airport, no shuttle at the airport, and calls to the company to ask about either were met with strict 'No' answers. Carerentals.com (an Expedia company) was likely, unable or unwilling to help. I had to swallow the entire rental cost (as of now) and rent through a company on-site as a result.
Pros:
The car was ok. Not great, but overall they charged us properly.
Cons:
They didn't have the car we ordered on the day, so we had to wait a day to get it. They then told us there would be an extra charge of $18 per day for liability insurance only which was mandatory but not stated on our initial contract. Overall we ended up paying $50 per day, including the one day I didn't even get a car, and I signed up for $19 a day through the site. Total rip off.....
Don't waist your time or money
Pros:
Nothing, the place just tries to scam you.
Cons:
They didn't have a car available when we arrived at the time of our reservation. We were told it would be available 8 hours later. We were then told that if we were willing to pay significantly more (like 5x the originally quoted price) then, alas, they did actually have the car we reserved available. After wasting a long time trying to negotiate something close to what our original quoted price was we eventually gave up and used one of the name brand rental car companies instead. Bottom line, don't waist your time with economy rent a car
Pros:
The original price. False, turns out you also have to purchase insurance on top of your insurance (don't do it), an undisclosed deposit was required, vehicle wasn't even there to rent even though I booked it weeks in advance, booked in advance and couldn't get a refund, and if it says there's an airport location think twice, because it was incorrect. Avoid this place!!!
Cons:
Airport location, full transparency on pricing, available customer service, vehicles to be available when you pay in advance. It goes on...
Pros:
Stuff was good, thanks Marco for understanding, but when you return car 1:30 hours later, because its hard to predict traffic-jam in new city in festival day + serpentine 8 hours road before and rental ask you for additional day (but the day before in this great rental was NO cars, despite my booking was 1 month before and only 1 option from rental was - wait please 8 hours! 8 hours !!! ou, and even no appologies or of course compensation) So bad experience at all.
Cons:
Try to help me to answer after you read previous message
Sunnycars

Sunnycars
Locations in Oaxaca
Carretera Oaxaca Puerto Angel
keddy by Europcar

keddy by Europcar
Locations in Oaxaca
Carretera Oaxaca - Puerto Angel- Km. 7.5 Sta. Cruz Xoxocotlan
Matamoros 101 Letra B- Colonia Centro
Dollar

Dollar
Locations in Oaxaca
Carr.oaxaca-pto Angel Km 7.5
0180 0365 1111
| | |
| --- | --- |
| Monday | 00:00 - 23:59 |
| Tuesday | 00:00 - 23:59 |
| Wednesday | 00:00 - 23:59 |
| Thursday | 00:00 - 23:59 |
| Friday | 00:00 - 23:59 |
| Saturday | 00:00 - 23:59 |
| Sunday | 00:00 - 23:59 |
Firefly

Firefly
Locations in Oaxaca
Oaxaca - Xoxocotlán International Airport
| | |
| --- | --- |
| Monday | 00:01 - 23:59 |
| Tuesday | 00:01 - 23:59 |
| Wednesday | 00:01 - 23:59 |
| Thursday | 00:01 - 23:59 |
| Friday | 00:01 - 23:59 |
| Saturday | 00:01 - 23:59 |
| Sunday | |
NU Car

NU Car
Locations in Oaxaca
Camino La Raya 101-b
0180 0227 6659
Rhodium

Rhodium
Locations in Oaxaca
Oaxaca - Xoxocotlán International Airport
| | |
| --- | --- |
| Monday | 00:01 - 23:59 |
| Tuesday | 00:01 - 23:59 |
| Wednesday | 00:01 - 23:59 |
| Thursday | 00:01 - 23:59 |
| Friday | 00:01 - 23:59 |
| Saturday | 00:01 - 23:59 |
| Sunday | |
40 travellers who rented a car in Oaxaca gave the car agency they used an average rating of 3.3
Car rental locations in or near Oaxaca
When to book a rental car in Oaxaca
Average daily price per month
Car hire prices as pick-up date approaches
Top tips for renting a car in Oaxaca
Book your rental car in Oaxaca at least 1 day before your trip in order to get a below-average price
FAQs about renting a car in Oaxaca
How can I find car rentals near me in Oaxaca?