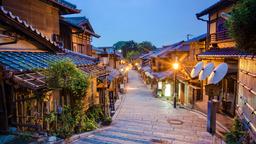 Kyoto car rentals
Search hundreds of travel sites at once for car rental deals in Kyoto
Kyoto car rental information
| | |
| --- | --- |
| Pick-up location | Kyoto |
| Rental locations | 37 |
Reviews and directory for self drive car rentals in Kyoto
Europcar

Europcar
Locations in Kyoto
Go To Times Car Rental Counter
+81 753 156 003
Go To Times Car Rental Counter
+81 756 054 747
Go To Times Car Rental Counter
+81 756 817 779
Go To Times Car Rental Counter
+81 752 547 979
Go To Times Car Rental Counter
+81 753 610 201
Multi Media B2f, 590-2 Higashishiok
+81 753 531 313
Hertz

11 2 Magohashicho Sakyoku
+81 757 620 115
| | |
| --- | --- |
| Monday | 08:00 - 20:00 |
| Tuesday | 08:00 - 20:00 |
| Wednesday | 08:00 - 20:00 |
| Thursday | 08:00 - 20:00 |
| Friday | 08:00 - 20:00 |
| Saturday | 08:00 - 20:00 |
| Sunday | 08:00 - 20:00 |
18 Orihara Hikitsuchi
+81 773 758 100
| | |
| --- | --- |
| Monday | 08:00 - 19:00 |
| Tuesday | 08:00 - 19:00 |
| Wednesday | 08:00 - 19:00 |
| Thursday | 08:00 - 19:00 |
| Friday | 08:00 - 19:00 |
| Saturday | 08:00 - 19:00 |
| Sunday | 08:00 - 19:00 |
22 Mieido-cho
+81 753 420 100
| | |
| --- | --- |
| Monday | 08:00 - 20:00 |
| Tuesday | 08:00 - 20:00 |
| Wednesday | 08:00 - 20:00 |
| Thursday | 08:00 - 20:00 |
| Friday | 08:00 - 20:00 |
| Saturday | 08:00 - 20:00 |
| Sunday | 08:00 - 20:00 |
31-1 Higashikujo
+81 753 650 100
| | |
| --- | --- |
| Monday | 08:00 - 21:00 |
| Tuesday | 08:00 - 21:00 |
| Wednesday | 08:00 - 21:00 |
| Thursday | 08:00 - 21:00 |
| Friday | 08:00 - 21:00 |
| Saturday | 08:00 - 21:00 |
| Sunday | 08:00 - 21:00 |
448-46 Kajii-cho
+81 752 110 100
| | |
| --- | --- |
| Monday | 08:00 - 20:00 |
| Tuesday | 08:00 - 20:00 |
| Wednesday | 08:00 - 20:00 |
| Thursday | 08:00 - 20:00 |
| Friday | 08:00 - 20:00 |
| Saturday | 08:00 - 20:00 |
| Sunday | 08:00 - 20:00 |
503 1 Anenishihorikawacho
+81 758 138 200
| | |
| --- | --- |
| Monday | 08:00 - 20:00 |
| Tuesday | 08:00 - 20:00 |
| Wednesday | 08:00 - 20:00 |
| Thursday | 08:00 - 20:00 |
| Friday | 08:00 - 20:00 |
| Saturday | 08:00 - 20:00 |
| Sunday | 08:00 - 20:00 |
Sunnycars

Sunnycars
Locations in Kyoto
1 Kisshoin Mukaida Nishi-cho
155-1 Mori-cho Fushimi-ku
23-3 Higashi Kujo Kami Tonoda-cho
3-20-1 Ekinan-cho, 2nd Floor at R Inn Fukuchiyama
Times

1 Kisshoin Mukaida Nishi-cho. Minami-ku
+81 753 156 003
155-1 Mori-cho Fushimi-ku
+81 756 054 747
23-3 Higashi Kujo Kami Tonoda-cho, Minami-ku
+81 756 817 779
678 Nishiki-dori, Karasuma higashihairu, Motohonenji-cho, Nakagyo-ku
+81 752 547 979
811 Hongakuji Mae-cho, Kawara-machi Nishi Iru
+81 753 610 201
B2F,590-2 Karasuma-dori Higashi Shiokoji-cho Shimogyo-ku
+81 753 531 313
keddy by Europcar

keddy by Europcar
Locations in Kyoto
Go To Times Car Rental Counter, 1 Kisshoin Mukaida Nishi-Cho
Go To Times Car Rental Counter, 42-2 Kasaboko-Cho Shimogyo-Ku
Go To Times Car Rental Counter, 811 Hongakuji Mae-Cho
Go To Times Car Rental Counter- 155-1 Mouri Cho Fushimi
Nissan Rent-A-Car

Nissan Rent-A-Car
Locations in Kyoto
Nippon Rent-A-Car

Nippon Rent-A-Car
Locations in Kyoto
614 Higashi-shiokoji-cho, Shimogyo-ku,Kyoto-shi,Kyoto
+81 753 440 919
9 Nakatonoda-cho, Higashikujo, Minami-ku,Kyoto-shi,Kyoto
+81 756 810 311
Alamo

9 Nakatonoda-cho, Higashi-9-jo
+81 756 810 311
| | |
| --- | --- |
| Monday | 07:00 - 23:00 |
| Tuesday | 07:00 - 23:00 |
| Wednesday | 07:00 - 23:00 |
| Thursday | 07:00 - 23:00 |
| Friday | 07:00 - 23:00 |
| Saturday | 07:00 - 23:00 |
| Sunday | 07:00 - 23:00 |
Enterprise

Enterprise
Locations in Kyoto
9 Nakatonoda-cho, Higashi-9-jo
+81 756 810 311
| | |
| --- | --- |
| Monday | 07:00 - 23:00 |
| Tuesday | 07:00 - 23:00 |
| Wednesday | 07:00 - 23:00 |
| Thursday | 07:00 - 23:00 |
| Friday | 07:00 - 23:00 |
| Saturday | 07:00 - 23:00 |
| Sunday | 07:00 - 23:00 |
National

National
Locations in Kyoto
9 Nakatonoda-cho, Higashi-9-jo
+81 756 810 311
| | |
| --- | --- |
| Monday | 07:00 - 23:00 |
| Tuesday | 07:00 - 23:00 |
| Wednesday | 07:00 - 23:00 |
| Thursday | 07:00 - 23:00 |
| Friday | 07:00 - 23:00 |
| Saturday | 07:00 - 23:00 |
| Sunday | 07:00 - 23:00 |
Sixt

13-1 Nishi Kujo Kitanouchi-cho
+81 756 810 543
| | |
| --- | --- |
| Monday | 08:00 - 22:00 |
| Tuesday | 08:00 - 22:00 |
| Wednesday | 08:00 - 22:00 |
| Thursday | 08:00 - 22:00 |
| Friday | 08:00 - 22:00 |
| Saturday | 08:00 - 22:00 |
| Sunday | 08:00 - 22:00 |
Car rental locations in or near Kyoto
Good to know
| | |
| --- | --- |
| Most popular car type | Economy |
When to book a rental car in Kyoto
Average daily price per month
Car hire prices as pick-up date approaches
Top tips for renting a car in Kyoto
Book your rental car in Kyoto at least 4 weeks before your trip in order to get a below-average price
FAQs about renting a car in Kyoto
What is the most popular rental car in Kyoto?
Economy (Hyundai Accent or similar) is the most frequently booked rental car type in Kyoto.
How can I find car rentals near me in Kyoto?
Take a look at our extensive car rental location map to find the best rental cars near you.
How much does a Economy car rental cost in Kyoto?
A Economy car rental in Kyoto costs ₹ 3,327 per day, on average.