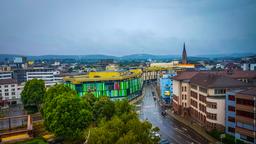 Kaiserslautern car rentals
Search hundreds of travel sites at once for car rental deals in Kaiserslautern
Kaiserslautern car rental information
| | |
| --- | --- |
| Pick-up location | Kaiserslautern |
| Rental locations | 21 |
Reviews and directory for self drive car rentals in Kaiserslautern
Hertz

╳
Hertz reviews
Car hire locations
Hertz
Locations in Kaiserslautern
Mainzer Strasse 107
+49 631 3410 0176
| | |
| --- | --- |
| Monday | 08:00 - 16:00 |
| Tuesday | 08:00 - 16:00 |
| Wednesday | 08:00 - 16:00 |
| Thursday | 08:00 - 16:00 |
| Friday | 08:00 - 16:00 |
| Saturday | 08:00 - 12:00 |
| Sunday | |
8.0 Excellent
31 Aug 2016
Second car small ford was almost able to give pow
Cons:
Calling me to return the rented car back to pick location and and take a replacement less level and smaller engine with no alternatives !! Why ? No other cars available with auto transmission and the picked up car was sold need to return it back
Fine but read the fine print about insurance
Pros:
Car was ready as promised when I came to pick it up.
Cons:
I booked online, and when I got there they told me that the rental was without car insurance. To purchase insurance would have more than doubled the cost. How can you offer a car rental without insurance? Just seems like a price gouging tactic. Car was really dirty on the outside when I picked it up.
Cons:
My frustration is not with KAYAK, but rather with the Hertz office I used. The car I reserved was not there when I arrived (I was delayed 1 hour). I ended up with a smaller car (FIAT 500). Although I did not pay as much for this car as the one I had reserved would have cost, it was a higher rate than was listed on the website for the same vehicle. I may rent from Hertz again in the future, but defiantly not from the office in K-town Germany.
Hertz never again!!
Cons:
This particular Hertz dealer in Kaiserslautern Germany is out of their mind. In was charged over $400 dollars for minor scratches
Enterprise

╳
Enterprise reviews
Car hire locations
Enterprise
Locations in Kaiserslautern
Pariser Strasse 244
+49 631 414 290
| | |
| --- | --- |
| Monday | 07:30 - 18:00 |
| Tuesday | 07:30 - 18:00 |
| Wednesday | 07:30 - 18:00 |
| Thursday | 07:30 - 18:00 |
| Friday | 07:30 - 18:00 |
| Saturday | 09:00 - 12:00 |
| Sunday | 00:00 - 00:00 |
They cancelled my reservation last minute
Cons:
5 minutes before all the rental companies close in this area i got an email from enterprise saying they cancelled my reservation becaused they overbooked. Left me stranded and paying a higher rate in a lower class car for a day-of reservation with another company. Inexcusable.
Give it no stars
Pros:
Nothing. They totally destroyed my weekend plans. I had an on line reservation and when I got there they told me there was no car. It was just before noon in Germany and they were closing at noon along with all other rental companies in The area until Monday morning. Most horrid experience I ever had. Made me rethink renting from Kayak and from Enterprise. I wrote to Enterprise about my experience and never received a reply, except they were sending my complaint on to corporate headquarters. Guess corporate headquarters lost my complaint, because though it was sentm3 times I never heard from them. The strange part was there were several cars in the Enerprise parking lot when I was to,d there were no cars available.
Cons:
Nothing good at all. When you have a reservation and they won't give you a car, how can there be anything good?
Cons:
I was charged more than the price I was quoted, which was approximately $351.00. I was charged $465.00, over $100 more than the original price. RIPOFF!
10.0 Excellent
2 Dec 2016
Pros:
Friendly customer service. Located very close to a gas station, which is convenient for filling up before returning the car.
Never got the car
Cons:
Don't book with enterprise. I rented a van to transport my two friends, aunt, uncle, and Mom and dad who were visiting Europe for the first time. A couple days before I called to confirm my reservation and they informed me that they did not have the van I reserved. I asked them when they planned to inform me of this and they did not have an answer. The manager had also stepped out when I asked to speak with him or her. Avid at Ramstein was great.
Enterprise
Pros:
I like that we got a free upgrade because the 7 passenger van wasn't available
Cons:
The car was dirty, they didn't have the car at the place of pickup had to drive 1hr 20 min to next pick up location, the had to stop at a enterprise 1hr and 15 min out of the way from our destination because it needed an oil change and air in the tires.
france rental
Pros:
I was happy with the location of the service. The team member handling my rental was very personable, efficient and made the whole experience easy.
Sunnycars

6 locations in Kaiserslautern
Sunnycars
Locations in Kaiserslautern
BUCHBINDER

3 locations in Kaiserslautern
BUCHBINDER
Locations in Kaiserslautern
Kaiserstr. 22
+49 631 414 8680
Mainzer Str. 86
+49 631 99 999
Global Rent A Car

3 locations in Kaiserslautern
Global Rent A Car
Locations in Kaiserslautern
Kaiserstr 22
+49 631 414 8680
Mainzer Str 86
+49 631 99 999
Merkurstr. 45
+49 631 4140 8860
INTERRENT

2 locations in Kaiserslautern
INTERRENT
Locations in Kaiserslautern
Mainzer Str. 86
+49 631 99 999
| | |
| --- | --- |
| Monday | 07:30 - 18:00 |
| Tuesday | 07:30 - 18:00 |
| Wednesday | 07:30 - 18:00 |
| Thursday | 07:30 - 18:00 |
| Friday | 07:30 - 18:00 |
| Saturday | 08:00 - 12:00 |
| Sunday | 09:00 - 11:00 |
Opelkreisel 15
+49 631 414 8680
| | |
| --- | --- |
| Monday | 07:30 - 18:00 |
| Tuesday | 07:30 - 18:00 |
| Wednesday | 07:30 - 18:00 |
| Thursday | 07:30 - 18:00 |
| Friday | 07:30 - 18:00 |
| Saturday | 08:00 - 12:00 |
| Sunday | 09:00 - 11:00 |
Avis

Avis
Locations in Kaiserslautern
Pariser Strasse 348
+49 631 350 290
Monday
07:30 - 12:00
13:00 - 17:00
Tuesday
07:30 - 12:00
13:00 - 17:00
Wednesday
07:30 - 12:00
13:00 - 17:00
Thursday
07:30 - 12:00
13:00 - 17:00
Friday
07:30 - 12:00
13:00 - 17:00
Saturday
08:00 - 12:00
Sunday
Budget

Budget
Locations in Kaiserslautern
Pariser Strasse 348
+49 69 710 445 596
Europcar

Europcar
Locations in Kaiserslautern
Pariser Strasse 200
+49 631 371 200
keddy by Europcar

keddy by Europcar
Locations in Kaiserslautern
Sixt

Sixt
Locations in Kaiserslautern
Mainzer Str. 83
+49 89 6606 0060
| | |
| --- | --- |
| Monday | 07:00 - 19:00 |
| Tuesday | 07:00 - 19:00 |
| Wednesday | 07:00 - 19:00 |
| Thursday | 07:00 - 19:00 |
| Friday | 07:00 - 19:00 |
| Saturday | 08:00 - 12:00 |
| Sunday | 09:00 - 12:00 |
11 travellers who rented a car in Kaiserslautern gave the car agency they used an average rating of 4.9
Car rental locations in or near Kaiserslautern
When to book a rental car in Kaiserslautern
Average daily price per month
Car hire prices as pick-up date approaches
Top tips for renting a car in Kaiserslautern
Book your rental car in Kaiserslautern at least 1 day before your trip in order to get a below-average price
FAQs about renting a car in Kaiserslautern