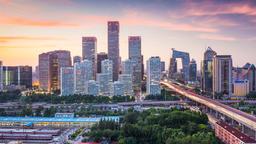 Beijing car rentals
Search hundreds of travel sites at once for car rental deals in Beijing
Beijing car rental information
| | |
| --- | --- |
| Pick-up location | Beijing |
| Rental locations | 31 |
| Airport locations | 6 |
Reviews and directory for self drive car rentals in Beijing
Hertz

╳
Hertz reviews
Car hire locations
Hertz
Locations in Beijing
52 Zhongguancun S St, Vienna
+86 189 1088 7569
| | |
| --- | --- |
| Monday | 08:00 - 21:00 |
| Tuesday | 08:00 - 21:00 |
| Wednesday | 08:00 - 21:00 |
| Thursday | 08:00 - 21:00 |
| Friday | 08:00 - 21:00 |
| Saturday | 08:00 - 21:00 |
| Sunday | 08:00 - 21:00 |
B3 Carpark Shifeng Intl
+86 189 1088 7596
| | |
| --- | --- |
| Monday | 08:00 - 21:00 |
| Tuesday | 08:00 - 21:00 |
| Wednesday | 08:00 - 21:00 |
| Thursday | 08:00 - 21:00 |
| Friday | 08:00 - 21:00 |
| Saturday | 08:00 - 21:00 |
| Sunday | 08:00 - 21:00 |
Babaoshan Public Cemetery East
+86 189 1088 7568
| | |
| --- | --- |
| Monday | 08:00 - 21:00 |
| Tuesday | 08:00 - 21:00 |
| Wednesday | 08:00 - 21:00 |
| Thursday | 08:00 - 21:00 |
| Friday | 08:00 - 21:00 |
| Saturday | 08:00 - 21:00 |
| Sunday | 08:00 - 21:00 |
Car Park,367 Guang Wei St
+86 189 1088 7571
| | |
| --- | --- |
| Monday | 08:00 - 21:00 |
| Tuesday | 08:00 - 21:00 |
| Wednesday | 08:00 - 21:00 |
| Thursday | 08:00 - 21:00 |
| Friday | 08:00 - 21:00 |
| Saturday | 08:00 - 21:00 |
| Sunday | 08:00 - 21:00 |
Pangudaguan West Beichen Rd
+86 189 1088 7556
| | |
| --- | --- |
| Monday | 08:00 - 21:00 |
| Tuesday | 08:00 - 21:00 |
| Wednesday | 08:00 - 21:00 |
| Thursday | 08:00 - 21:00 |
| Friday | 08:00 - 21:00 |
| Saturday | 08:00 - 21:00 |
| Sunday | 08:00 - 21:00 |
Sub Sayuanqiao Stn Exit C3 Nt
+86 189 1088 7559
| | |
| --- | --- |
| Monday | 00:00 - 23:59 |
| Tuesday | 00:00 - 23:59 |
| Wednesday | 00:00 - 23:59 |
| Thursday | 00:00 - 23:59 |
| Friday | 00:00 - 23:59 |
| Saturday | 00:00 - 23:59 |
| Sunday | 00:00 - 23:59 |
Subway Guoyuan Exit B Carpark
+86 189 1088 7581
| | |
| --- | --- |
| Monday | 08:00 - 21:00 |
| Tuesday | 08:00 - 21:00 |
| Wednesday | 08:00 - 21:00 |
| Thursday | 08:00 - 21:00 |
| Friday | 08:00 - 21:00 |
| Saturday | 08:00 - 21:00 |
| Sunday | 08:00 - 21:00 |
Subway Sihui,exit B 50m West
+86 189 1088 7572
| | |
| --- | --- |
| Monday | 08:00 - 21:00 |
| Tuesday | 08:00 - 21:00 |
| Wednesday | 08:00 - 21:00 |
| Thursday | 08:00 - 21:00 |
| Friday | 08:00 - 21:00 |
| Saturday | 08:00 - 21:00 |
| Sunday | 08:00 - 21:00 |
T1/1f Straight 100 M
+86 189 1088 7578
| | |
| --- | --- |
| Monday | 00:00 - 23:59 |
| Tuesday | 00:00 - 23:59 |
| Wednesday | 00:00 - 23:59 |
| Thursday | 00:00 - 23:59 |
| Friday | 00:00 - 23:59 |
| Saturday | 00:00 - 23:59 |
| Sunday | 00:00 - 23:59 |
Tonghuihe N.rd
+86 189 1088 7358
| | |
| --- | --- |
| Monday | 08:00 - 21:00 |
| Tuesday | 08:00 - 21:00 |
| Wednesday | 08:00 - 21:00 |
| Thursday | 08:00 - 21:00 |
| Friday | 08:00 - 21:00 |
| Saturday | 08:00 - 21:00 |
| Sunday | 08:00 - 21:00 |
All Hertz reviews
Hertz reviews in Beijing
Avis

Avis
Locations in Beijing
93 Jianguo Rd
+86 105 814 0013
| | |
| --- | --- |
| Monday | 08:30 - 17:00 |
| Tuesday | 08:30 - 17:00 |
| Wednesday | 08:30 - 17:00 |
| Thursday | 08:30 - 17:00 |
| Friday | 08:30 - 17:00 |
| Saturday | 08:30 - 17:00 |
| Sunday | 08:30 - 17:00 |
Beijing Pek Living Area No.9
+86 153 0017 5163
| | |
| --- | --- |
| Monday | 09:00 - 17:00 |
| Tuesday | 09:00 - 17:00 |
| Wednesday | 09:00 - 17:00 |
| Thursday | 09:00 - 17:00 |
| Friday | 09:00 - 17:00 |
| Saturday | 09:00 - 17:00 |
| Sunday | 09:00 - 17:00 |
Beside Weast of Aomen Center
+86 105 814 0013
| | |
| --- | --- |
| Monday | 08:30 - 17:00 |
| Tuesday | 08:30 - 17:00 |
| Wednesday | 08:30 - 17:00 |
| Thursday | 08:30 - 17:00 |
| Friday | 08:30 - 17:00 |
| Saturday | 08:30 - 17:00 |
| Sunday | 08:30 - 17:00 |
No 16,1-1 Layer, Dongzhimen Rd
+86 108 406 4732
| | |
| --- | --- |
| Monday | 08:30 - 17:30 |
| Tuesday | 08:30 - 17:30 |
| Wednesday | 08:30 - 17:30 |
| Thursday | 08:30 - 17:30 |
| Friday | 08:30 - 17:30 |
| Saturday | 08:30 - 17:00 |
| Sunday | 08:30 - 17:30 |
No. 29 South Mofang Rd
+86 137 1764 5702
| | |
| --- | --- |
| Monday | 09:00 - 17:00 |
| Tuesday | 09:00 - 17:00 |
| Wednesday | 09:00 - 17:00 |
| Thursday | 09:00 - 17:00 |
| Friday | 09:00 - 17:00 |
| Saturday | 09:00 - 17:00 |
| Sunday | 09:00 - 17:00 |
No.1,North Maliandao Road
+86 105 814 0013
| | |
| --- | --- |
| Monday | 09:30 - 17:00 |
| Tuesday | 09:30 - 17:00 |
| Wednesday | 09:30 - 17:00 |
| Thursday | 09:30 - 17:00 |
| Friday | 09:30 - 17:00 |
| Saturday | 09:30 - 17:00 |
| Sunday | 09:30 - 17:00 |
No.24 East Sanhuan Middle Rd
+86 137 1764 5702
| | |
| --- | --- |
| Monday | 09:00 - 17:00 |
| Tuesday | 09:00 - 17:00 |
| Wednesday | 09:00 - 17:00 |
| Thursday | 09:00 - 17:00 |
| Friday | 09:00 - 17:00 |
| Saturday | 09:00 - 17:00 |
| Sunday | 09:00 - 17:00 |
No.39 ,East Third Ring Road
+86 105 814 0013
| | |
| --- | --- |
| Monday | 08:30 - 17:00 |
| Tuesday | 08:30 - 17:00 |
| Wednesday | 08:30 - 17:00 |
| Thursday | 08:30 - 17:00 |
| Friday | 08:30 - 17:00 |
| Saturday | 08:30 - 17:00 |
| Sunday | 08:30 - 17:00 |
Station B1 S Wangjing Station
+86 105 814 0013
| | |
| --- | --- |
| Monday | 08:30 - 17:00 |
| Tuesday | 08:30 - 17:00 |
| Wednesday | 08:30 - 17:00 |
| Thursday | 08:30 - 17:00 |
| Friday | 08:30 - 17:00 |
| Saturday | 08:30 - 17:00 |
| Sunday | 08:30 - 17:00 |
Terminal 1 Building Parking
+86 105 719 1400
| | |
| --- | --- |
| Monday | 09:30 - 18:00 |
| Tuesday | 09:30 - 18:00 |
| Wednesday | 09:30 - 18:00 |
| Thursday | 09:30 - 18:00 |
| Friday | 09:30 - 18:00 |
| Saturday | 09:30 - 18:00 |
| Sunday | 09:30 - 18:00 |
Terminal 2 Building Parking
+86 105 719 1400
| | |
| --- | --- |
| Monday | 09:30 - 18:00 |
| Tuesday | 09:30 - 18:00 |
| Wednesday | 09:30 - 18:00 |
| Thursday | 09:30 - 18:00 |
| Friday | 09:30 - 18:00 |
| Saturday | 09:30 - 18:00 |
| Sunday | 09:30 - 18:00 |
Terminal 3 Building Parking
+86 105 719 1400
| | |
| --- | --- |
| Monday | 09:30 - 18:00 |
| Tuesday | 09:30 - 18:00 |
| Wednesday | 09:30 - 18:00 |
| Thursday | 09:30 - 18:00 |
| Friday | 09:30 - 18:00 |
| Saturday | 09:30 - 18:00 |
| Sunday | 09:30 - 18:00 |
The Shunyi XGZ Mtr Exit D
+86 153 0017 5163
| | |
| --- | --- |
| Monday | 09:00 - 17:00 |
| Tuesday | 09:00 - 17:00 |
| Wednesday | 09:00 - 17:00 |
| Thursday | 09:00 - 17:00 |
| Friday | 09:00 - 17:00 |
| Saturday | 09:00 - 17:00 |
| Sunday | 09:00 - 17:00 |
Ehi

No. 400 Zhongdong Lu, No. 1 Building, 1-1-5
+86 106 412 7282
No.8 Kaiyang Road,Yuexiu City Shopping Center
+86 108 725 6167
Room 18, No. 4 Building, Longtengyuan Area 6
+86 108 075 7822
Room 3, No. 2 Building Longjinyuan Area 2
+86 108 171 3901
Terminal 1 Building Parking
+86 105 725 8426
Europcar

Europcar
Locations in Beijing
(inside Capital Apt) 1f003-fl1
+86 185 1301 9558
| | |
| --- | --- |
| Monday | 23:00 - 23:59 |
| Tuesday | 00:00 - 06:59 |
| Wednesday | 07:00 - 22:59 |
| Thursday | 23:00 - 23:59 |
| Friday | 23:00 - 23:59 |
| Saturday | 23:00 - 23:59 |
| Sunday | 00:00 - 06:59 |
(inside Capital Apt) A1e2-5
+86 185 1301 9558
keddy by Europcar

keddy by Europcar
Locations in Beijing
1f003 1f Parking Garage, 2 Terminal Building,Capital Int Apt
Car rental locations in or near Beijing
When to book a rental car in Beijing
Average daily price per month
Car hire prices as pick-up date approaches
Top tips for renting a car in Beijing
Book your rental car in Beijing at least 1 day before your trip in order to get a below-average price
FAQs about renting a car in Beijing
What is the best rental car company in Beijing?
Based on ratings and reviews from real users on KAYAK, the best car rental company in Beijing is Dollar (7.3, 6359 reviews).
How can I find car rentals near me in Beijing?
Take a look at our extensive car rental location map to find the best rental cars near you.