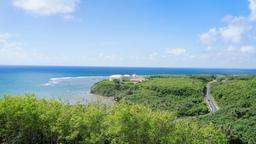 Car rental directory
5 Locations

5 Locations

5 Locations

5 Locations

5 Locations

4 Locations

4 Locations

3 Locations

3 Locations

2 Locations

2 Locations

2 Locations
Top tips for renting a car in Guam
Although Guam is a compact island, public transportation is almost non-existent, so opting for a rental car is one of the best ways to get around. A popular route is to drive south to Merizo and the Inajaran Pools. Also, many of the island's quietest and most beautiful beaches are only accessible by road.
Despite its small size, navigating in Guam can be difficult, especially off the major coastal highways. Most rental companies offer customers the option of adding a GPS or mobile Wi-Fi package onto their rental, allowing for easy navigation without expensive roaming charges. Budget offers both options, a portable GPS system costing around $7.50 per day and mobile Wi-Fi for up to 5 devices costing approximately $8 per day.
Children under the age of 12 must be seated in an age-appropriate restraint that is placed in the rear seats of the vehicle. All car rental agencies in Guam are able to provide baby or child seats when booked and confirmed in advance. A daily fee is usually applicable for this service, such as $10 per day with the rental agency Avis.
Those who wish to rent a car in Guam but are starting their trip with a few days in Tamuning may find it best to pick up their car from a city center location. Most agencies offer in-town or hotel pick-up, but many charge an airport fee. Ace, for example, adds on around $1.50 per day for each rental that is picked up or dropped off at the international airport.
FAQs about renting a car in Guam
What is the best rental car company in Guam?

Based on ratings and reviews from real users on KAYAK, the best car rental companies in Guam are Enterprise (9.5, 16 reviews), Avis (8.6, 4 reviews), and Alamo (8.5, 14 reviews).

How can I find car rentals near me in Guam?

Take a look at our extensive car rental location map to find the best rental cars near you.

What is driving like in Guam?

Outside the main city of Tamuning and away from the highway, roads in Guam can be rough and potholed. Driving is on the right side of the road, and anyone who chooses to rent a car in Guam should be prepared to drive defensively and watch out for speeding vehicles, especially on winding rural roads. Wearing seatbelts is mandatory for all passengers.

How old do you have to be to hire a car in Guam?

The minimum age to rent a car in Guam is 18, but some agencies impose a higher limit or charge a young driver's fee where applicable. Sixt, for example, charges an extra $6 per day for drivers ages 18 to 21. All drivers must present a valid domestic driver's license, and some companies additionally request an International Driver's Permit (IDP).

How much does petrol cost in Guam?

There are three main fuel providers in Guam, and petrol stations can be found regularly across the island. Many are open 24h. Petrol prices are given by the gallon, as in the USA, but are subject to regular fluctuations. As a general rule, the providers mirror one another's prices, so there is no need to shop around for the best rates. Expect to pay around $4.35 for a gallon of regular petrol and $4.75 for a gallon of diesel.

What are the speed limits in Guam?

Speed limits in Guam are generally well marked, but it is important to be aware of the laws to be on the safe side. As a rule, the maximum limit for traveling on a rural road is 35 mph, while residential areas have a limit of 15 mph. School zones may impose a speed limit of 15 mph or 25 mph, depending on their location and the number of road crossings.
Car rental locations in Guam
Popular car rental locations
The rates displayed include all taxes and fees for car hires for the class listed and were found by KAYAK users in the last hours. Car hires are subject to change and may not be available on all car hires listed or dates of travel. Some car hire providers charge additional fees for other services (gps, infant car seats, etc.). Please check the car hire providers' sites.