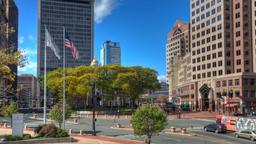 Hartford car rentals
Search hundreds of travel sites at once for car rental deals in Hartford
Hartford, CT, United States
Hartford car rental information
| | |
| --- | --- |
| Pick-up location | Hartford |
| Rental locations | 11 |
| Airport locations | 3 |
Reviews and directory for self drive car rentals in Hartford
Hertz

╳
Hertz reviews
Car hire locations
Hertz
Locations in Hartford
1005 New Britain Avenue
+1 860 953 1069
| | |
| --- | --- |
| Monday | 08:00 - 17:00 |
| Tuesday | 08:00 - 17:00 |
| Wednesday | 08:00 - 17:00 |
| Thursday | 08:00 - 17:00 |
| Friday | 08:00 - 17:00 |
| Saturday | 09:00 - 13:00 |
| Sunday | |
108a Constitution Plaza
+1 860 247 0044
| | |
| --- | --- |
| Monday | 07:30 - 18:00 |
| Tuesday | 07:30 - 18:00 |
| Wednesday | 07:30 - 18:00 |
| Thursday | 07:30 - 18:00 |
| Friday | 07:30 - 18:00 |
| Saturday | 09:00 - 13:00 |
| Sunday | |
2 Schoephoester Road
+1 860 627 3850
Monday
00:00 - 01:00
04:00 - 23:59
Tuesday
00:00 - 01:00
04:00 - 23:59
Wednesday
00:00 - 01:00
04:00 - 23:59
Thursday
00:00 - 01:00
04:00 - 23:59
Friday
00:00 - 01:00
04:00 - 23:59
Saturday
00:00 - 01:00
04:00 - 23:59
Sunday
00:00 - 01:00
04:00 - 23:59
880 Weathersfield Avenue
+1 860 296 3125
| | |
| --- | --- |
| Monday | 08:00 - 17:00 |
| Tuesday | 08:00 - 17:00 |
| Wednesday | 08:00 - 17:00 |
| Thursday | 08:00 - 17:00 |
| Friday | 08:00 - 17:00 |
| Saturday | |
| Sunday | |
Abandoned
Cons:
There was an issue with my credit card and they wouldn't take my debit card.I felt abandoned in the middle of nowhere. The agent did not show any type of concerns.
10.0 Excellent
19 Jul 2016
Easy summer rental for a good price
Pros:
We rented a Chevy Tahoe for 6 of us and it worked out great. The summer prices are a bit higher, but it was a good deal for 3 days.
10.0 Excellent
28 Sep 2016
Excellent as usual
Pros:
Easy pickup, clean car, good price, fast drop off.
Pros:
Pick up and drop off were great. The staff was nice. The price was the cheapest.
Cons:
The intermediate size car I reserved was a Toyota Corolla. It had a very small back seat. It had 44,000 miles on it. After driving 1 hour to my destination, the tire pressure light came on and I had to take the car to get air in the tires. Being a woman traveling alone, I don't prefer to have to do maintenance on a rental car. Enterprise has much newer, better maintained cars in my opinion. Very difficult to reach the Bradley Airport location by phone to ask questions during the rental week. I was on hold for over 15 minutes.
Cons:
When we arrived at the Hertz location near Bradley Airport our name was not posted on the Gold Board. We went in the office, waited in line, were finally served, and were told that our rental had been cancelled! After recovering from this shock, we were polite and Hertz made good on the rental.
Scam
Cons:
Was charged on kayak and than not able to even take the car at Hertz. Had to uber my way home and rent through enterprise.
Don't rent the Prius C
Cons:
Agent was stoned. Car was worse one I've ever rented. It was uncomfortable, unpowered, lacked cruise control. My knee hurts.
Great car, but need faster check-in
Pros:
Everything was great except for the pick-up experience. I'm not sure if this was just an abnormal night or if someone called in sick, but it sure put a damper on everything else. The car was perfect and the price was right.
Cons:
The pickup experience was terrible. We waited for 30+ minutes due to the fact that the front desk in Hartford only had one person working on a Friday night. Also, the electronic kiosk in the Hartford office was down which would have greatly sped things up.
10.0 Excellent
24 Apr 2017
Pros:
Everything is smooth and no issue from the very beginning!
10.0 Excellent
16 May 2017
Pros:
It exceeded my expecrations
Avis

9.7 Excellent (3 reviews)
╳
Avis reviews
Car hire locations
Avis
Locations in Hartford
274 Leibert Road
+1 860 241 0049
| | |
| --- | --- |
| Monday | 08:00 - 18:00 |
| Tuesday | 08:00 - 18:00 |
| Wednesday | 08:00 - 18:00 |
| Thursday | 08:00 - 18:00 |
| Friday | 08:00 - 18:00 |
| Saturday | 08:00 - 15:00 |
| Sunday | 11:00 - 16:00 |
9.6 Excellent
13 Nov 2016
Cons:
Better signage needed to get to drop-off location.
9.6 Excellent
16 Oct 2017
A tale of two locations
Pros:
So I mistakenly thought I booked the car for the Avis location close to the airport. Took the Avis shuttle from airport to their facility, and when the agreement screen popped up, the price showed as being close to $600!! I showed the clerk my reservation, with the price I agreed to as being $136, and the clerk said "Oh, I see the problem. Your booking is with the downtown Avis location, not the airport location." So I used a rideshare app to go the 20 minutes to the proper facility, and got the price I was promised. But - are you freaking KIDDING ME? It costs 4 times as much for the same car, with the same company, if you rent it from the airport location instead? price gouging, anyone??? On the plus side, once I was at the proper location, the transaction was very smooth and the clerk very helpful
10.0 Excellent
21 Dec 2019
Pros:
Super easy drop off and pick up!
Enterprise

9.3 Excellent (17 reviews)
╳
Enterprise reviews
Car hire locations
Enterprise
Locations in Hartford
47 Airport Rd
+1 860 296 2511
| | |
| --- | --- |
| Monday | 08:00 - 18:00 |
| Tuesday | 08:00 - 18:00 |
| Wednesday | 08:00 - 18:00 |
| Thursday | 08:00 - 18:00 |
| Friday | 08:00 - 18:00 |
| Saturday | 09:00 - 13:00 |
| Sunday | 00:00 - 00:00 |
51 W Service Rd
+1 860 524 1411
| | |
| --- | --- |
| Monday | 07:30 - 18:00 |
| Tuesday | 07:30 - 18:00 |
| Wednesday | 07:30 - 18:00 |
| Thursday | 07:30 - 18:00 |
| Friday | 07:30 - 18:00 |
| Saturday | 08:00 - 14:00 |
| Sunday | 00:00 - 00:00 |
10.0 Excellent
20 Jul 2018
Perfect
Pros:
The staff was very attentive to my needs.
Cons:
The toll pass I rented was invalid but the manager Alec refunded me and was extremely apologetic.
8.8 Excellent
30 Mar 2017
Good value
Pros:
Employees were very friendly (almost awkwardly/falsely so) and the transaction was smooth and quick.
Cons:
The car was obviously cleaned in a rush. Many parts of the car were not clean including the steering wheel. I guess you can't expect much out of a rental car..
10.0 Excellent
17 May 2017
Pleased with Enterprise van rental
Pros:
friendly and helpful staff, very capable and answered my questions. Very positive experience for us. We got a fairly new van, very clean and enjoyed driving it (although the stereo system was a bit tricky to figure out - not Enterprise's fault but perhaps could have given a tutorial).
Cons:
They had a bathroom but it had a sign "Employees Only" which is not a customer-friendly warning (they let us use it but they should expect customers coming from long trips to need facilities). Also, someone - Enterprise, KAYAK - should have given us the heads up about needing insurance documentation; our rental process took longer than it had to as we had to call the insurer and go through an authentification process to complete the rental.
10.0 Excellent
2 Aug 2017
10.0 Excellent
14 Aug 2017
Fantastic friendly service at BDL Airport Enterprise
Pros:
Excellent, helpful, friendly customer service! I was very impressed. Top notch young crew at the BDL location.
10.0 Excellent
19 Sep 2017
Pros:
Great price, fuel efficient car
Cons:
Squeaks and weird sounds in the rear/trunk area but it drove fine.
No car
Pros:
I received a confirmation but there was no car available.
10.0 Excellent
15 Sep 2018
Incredible service
Pros:
Staff was helpful, friendly and acommodating
Pros:
Our flight wasn't until 7:30 p.m. and the car had to be returned at 11 a.m... We called Andrew at the Hartford location and for 4.$ extra we were able to keep the car until 4. They also allowed us to drop the car at a location closer to the airport. The experiecne made our trip that much more enjoyable. Thank you Enterprise. Your new loyal customers,
10.0 Excellent
19 Oct 2016
Pros:
The customer service and the ease of renting the vehicle
Budget

╳
Budget reviews
Car hire locations
Budget
Locations in Hartford
274 Leibert Road
+1 860 247 0482
| | |
| --- | --- |
| Monday | 08:00 - 18:00 |
| Tuesday | 08:00 - 18:00 |
| Wednesday | 08:00 - 18:00 |
| Thursday | 08:00 - 18:00 |
| Friday | 08:00 - 18:00 |
| Saturday | 08:00 - 15:00 |
| Sunday | 11:00 - 16:00 |
Budget operation
Pros:
nice enough staff albeit aloof. quick and efficient service
Cons:
rough crowd renting cars. one couple was fighting in the store. the guy working the counter let them be themselves (probably for his own self preservation). hard location to get to
Pros:
Nice car. Good location.
Cons:
No receipt emailed. Receipt hard to process online. Charged me $20 to fill a 7/8 tank when they had agreed they gave it to me at 7/8.
8.8 Excellent
18 Feb 2016
Pros:
The clerk at the rental office accommodated my needs by allowing me to return the car at the airport rather than the Hartford office. The airport location was more convenient to me because my own car was parked nearby the airport. He was very friendly and helpful. The staff at the airport rental office were also helpful and accommodating and even informed me that I could ask for a shuttle pickup to return to my own car. The Hartford offices were cleaner than the one in Queens.
10.0 Excellent
16 Aug 2016
No credit no car
Pros:
Agent at the desk told me which car rental places took debit cards
Cons:
So getting a deal is one thing. Getting to the rental car place at 11:45 and being told no credit card = no car sucked. At least the woman told me Alamo and national rent with debit cards. Something needs to be said before a reservation is made that a cc is needed
10.0 Excellent
21 May 2017
Customer Service
Pros:
Cannot be any better. I was in a very bad situation and they provided me much much more than I could have asked for.
Poor svc
Pros:
Nothing. Check-in took 50 minutes with only two customers ahead of me.
10.0 Excellent
29 May 2017
Pros:
Very comfortable, smooth ride and not that bad on gas
Cons:
I tried to keep the car for another 2 days and it would of been about half of what i paid for 10 days
Pros:
The car itself was fine, and the attendants at the rental facility were very nice. Talking to representatives on Budget's national call center line to try to make modifications to the rental was a nightmare though.
Cons:
The rental facility was in the middle of nowhere. The facility had a toilet and sink but no toilet paper or hand paper towels. Talk about budget.
Horrible customer service
Pros:
The advertised price
Cons:
I was renting through my company and needed the underage fee to be waived. I called customer service before I arrived at the Budget office to apply my company code, they couldn't assist me and referred me to the nearest office. The rep at the office said an underage charge wouldn't be added, went ahead and swiped my card then realized I was being charged double the price. So I decided not to proceed with the rental, but was still charged an absurd qmount of money.
Easirent

Easirent
Locations in Hartford
Bradley International Airport
| | |
| --- | --- |
| Monday | 00:01 - 23:59 |
| Tuesday | 00:01 - 23:59 |
| Wednesday | 00:01 - 23:59 |
| Thursday | 00:01 - 23:59 |
| Friday | 00:01 - 23:59 |
| Saturday | 00:01 - 23:59 |
| Sunday | |
Sixt

Sixt
Locations in Hartford
200 Prospect Ave
+1 860 232 7368
| | |
| --- | --- |
| Monday | 08:00 - 17:30 |
| Tuesday | 08:00 - 17:30 |
| Wednesday | 08:00 - 17:30 |
| Thursday | 08:00 - 17:30 |
| Friday | 08:00 - 17:30 |
| Saturday | 08:00 - 12:00 |
| Sunday | |
Sunnycars

Sunnycars
Locations in Hartford
92 travellers who rented a car in Hartford gave the car agency they used an average rating of 7.2
Car rental locations in or near Hartford
When to book a rental car in Hartford
Average daily price per month
Car hire prices as pick-up date approaches
Top tips for renting a car in Hartford
Rent a car for your trip to Hartford and enjoy the benefits of maximum freedom. The city includes sights like the Mark Twain House & Museum and various golf courses nestled in the surroundings – both are best reached with your own four wheels. Another reason why a rental car is a good idea upon coming to Hartford is that travelers can easily explore the surrounding areas as well, such as Providence, which is one and a half hours from Hartford; New Haven at the coast (40 minutes by car); or New York, which is a 2-hour car ride away.
When you fly into Connecticut and land at Bradley International Airport, picking up a rental car is a convenient move, as Hartford is about 25 miles from the airport and easily reached via the I-91 S in just over twenty minutes. The airport has agencies like Avis, Alamo, or Hertz onsite and all agencies offer complimentary shuttle services from the terminal to their respective service desks.
Hartford is a lovely and car-friendly city with broad and well-maintained roads in most places. However, winter can bring lots of snow and ice to the area and it is imperative to be properly prepared. Make sure the rental car has winter tires and even snow chains in the trunk – especially if you want to venture out into the countryside. Adjust your speed when there is snow and refrain from sudden braking or accelerating. Also bear in mind that, due to piled up snow on the sides of the road, streets may be narrower and cars harder to see at intersections.
Hartford also has a rush hour during weekdays when driving, if possible, should be avoided. In the mornings, rush hour usually starts at 7:30 am and ends at 9 am. In the afternoon, it is between 4:30 and 6:30 pm, so always plan ahead of time, especially when going to the airport.
Book your rental car in Hartford at least 1 day before your trip in order to get a below-average price
FAQs about renting a car in Hartford
What is the best rental car company in Hartford?
Based on ratings and reviews from real users on KAYAK, the best car rental companies in Hartford are Enterprise (8.5, 12841 reviews), Avis (7.6, 2245 reviews), and Sixt (7.5, 1077 reviews).
How can I find car rentals near me in Hartford?
Take a look at our extensive car rental location map to find the best rental cars near you.
What type of car is recommended for driving in Hartford?
Especially when visiting during the winter, opting for a 4-wheel-drive car is a wise choice, as it provides the necessary traction for the weather conditions. An SUV will equip travelers with the essential stability on the road without being too bulky. If you're driving with family and need more space, a minivan is also a good option.
What's the speed limit in Hartford?
Speed limits are strictly enforced in Hartford, so always check for posted signs on the side of the road. General regulations permit 25 mph in school zones and 40 mph on arterial roadways. Interstates around the city allow 55 mph and rural interstates up to 65 mph. Always remember to adapt your speed to the given weather and road conditions.
How are gas prices in Hartford?
For a gas refill, expect to pay around $2.80 per gallon in Hartford. Try to find gas stations like Mobil or Exxon, where the rates can drop to $2.60. Remember which kind of gas is needed in your rental car and make sure to return it with a full tank. Also bear in mind that stations around the airport tend to be more expensive.
Where are the best places to park in Hartford?
On-street parking in Hartford is metered in most places and can vary in price and time restrictions, so always check the signs. There are also parking lots around, like the one on Main Street or Chapel Street. MAT Garage is also an alternative that costs a maximum of approximately $18 per day and from where the Dash bus goes into the city for free.