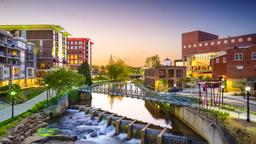 Greenville car rentals
Search hundreds of travel sites at once for car rental deals in Greenville
Greenville, SC, United States
Greenville car rental information
| | |
| --- | --- |
| Pick-up location | Greenville |
| Rental locations | 9 |
| Airport locations | 1 |
Reviews and directory for self drive car rentals in Greenville
Hertz

2 locations in Greenville
╳
Hertz reviews
Car hire locations
Hertz
Locations in Greenville
2000 Gsp Drive
+1 864 655 5300
| | |
| --- | --- |
| Monday | 07:00 - 23:59 |
| Tuesday | 07:00 - 23:59 |
| Wednesday | 07:00 - 23:59 |
| Thursday | 07:00 - 23:59 |
| Friday | 07:00 - 23:59 |
| Saturday | 07:00 - 23:59 |
| Sunday | 07:00 - 23:59 |
518 E North Street
+1 864 240 9145
| | |
| --- | --- |
| Monday | 08:00 - 18:00 |
| Tuesday | 08:00 - 18:00 |
| Wednesday | 08:00 - 18:00 |
| Thursday | 08:00 - 18:00 |
| Friday | 08:00 - 18:00 |
| Saturday | 09:00 - 12:00 |
| Sunday | |
Decent car rental, poor service.
Pros:
The car itself was pretty clean, ran great, had everything it was supposed to.
Cons:
The staff did not show up to the store till almost 30 minutes past opening time, and I had issues with checking out the car. Had to wait another 15 because the manager wasn't there till 45 minutes after opening, and then had to be asked out of the back to deal with me, even though he had been phoned with the issue and knew we were waiting on him. There were no apologies, nothing. They weren't necessarily rude, but there was no effort to make things better or to acknowledge that somehow with 2 employees and a manager on site, somehow none of the three could be bothered to be there on time. I was over an hour late leaving for my business trip because of this.
Hertz was good - Kayak screwed me with the price
Pros:
Hertz did a good job with what they did
Cons:
The price that Kayak listed wasn't the final price! That amount was charged to my credit card right away but I had to pay another 25%!!! of that when I returned the car. And not because I returned it late or dirty or damaged. Just because the price on Kayak wasn't the final one. There is only one reason why I book with Kayak and not Hertz and that is the cheaper price. Got screwed on that one....very disappointing
Poor service
Cons:
I had a confirmed reservation...I called an hour before pickup to find out they did not have a car. No apology and not even the courtesy of calling me in advance. I will not ever rent from Hertz again.
10.0 Excellent
23 Jan 2016
Great Service
Pros:
- Extreme friendliness of staff. - Ability to change payment method upon return.
If you cancel you lose!
Cons:
I had to cancel this reservation 2 days before travel as I was very sick. I was told that the money was NOT refundable. I should have never used this search engine and should have booked directly with Hertz. Never again!!
Lacking communication
Pros:
The rental office at the airport is conveniently located.
Cons:
I was not informed that: a. I needed to get my own transportation from the Airport to the 518 E North Street office b. that renting the car from the airport location meant additional expenses c. Poor soft-skills from the person at the counter.
Car was fine, service was not.
Pros:
The car was clean and comfortable. Drop off was easy.
Cons:
Pick up was in a dark garage so I didn't notice that the hood wasn't completely latched. I noticed this when I stopped 40 miles away. I am very thankful that it didn't come open on the interstate. Also, we booked the car at the wrong location in Greenville. I know that is our mistake. However, by changing locations the cost went from $60 to $144. I would expect to pay more at the airport, but not more than twice as much. The lady at the desk was more concerned with some "platinum member" she was working on than the customer in front of her (me). She got aggravated when I asked if there was anything she could do about the price difference. I should have just cancelled it at that point and went elsewhere.
Downtown
Pros:
Kindness and effort to please.
Cons:
Didn't have the small car I wanted available, few cars on lot to choose from, gave me two upgrades but I didn't want a big car.
8.8 Excellent
26 Apr 2017
Pros:
Renting through Kayak I reserved a car to pick up downtown rather than the airport. I'm pretty sure that I searched using the airport name.
They don't have a clue
Cons:
They wanted to charge me more than double the $237 confirmation for a manager special. Told me that I didn't have a rental. I showed them the confirmation email and they said there was no record,HMMM! After about 45 minutes of arguing I was on my way. The Mgr Special was a Focus that howled loudly at 40 - 70MPH. The howling was too loud to talk without yelling. The seats were stained and it didn't look like it had been cleaned(paper and pebbles in the front seat). Also the fuel system had acceleration issues(it bogged down then kicked in). I will NEVER get a manager's special again. All in all the guy at the counter was incompetent
Enterprise

4 locations in Greenville
╳
Enterprise reviews
Car hire locations
Enterprise
Locations in Greenville
1500 Laurens Rd.
+1 864 233 8182
| | |
| --- | --- |
| Monday | 08:00 - 18:00 |
| Tuesday | 08:00 - 18:00 |
| Wednesday | 08:00 - 18:00 |
| Thursday | 08:00 - 18:00 |
| Friday | 08:00 - 18:00 |
| Saturday | 09:00 - 16:00 |
| Sunday | 13:00 - 16:00 |
399 N Pleasantburg Dr
+1 864 271 7080
| | |
| --- | --- |
| Monday | 08:00 - 18:00 |
| Tuesday | 08:00 - 18:00 |
| Wednesday | 08:00 - 18:00 |
| Thursday | 08:00 - 18:00 |
| Friday | 08:00 - 18:00 |
| Saturday | 09:00 - 16:00 |
| Sunday | 00:00 - 00:00 |
501 Buncombe St
+1 864 242 4748
| | |
| --- | --- |
| Monday | 08:00 - 18:00 |
| Tuesday | 08:00 - 18:00 |
| Wednesday | 08:00 - 18:00 |
| Thursday | 08:00 - 18:00 |
| Friday | 08:00 - 18:00 |
| Saturday | 09:00 - 12:00 |
| Sunday | 00:00 - 00:00 |
531woodruff Road
+1 864 297 5579
| | |
| --- | --- |
| Monday | 08:00 - 18:00 |
| Tuesday | 08:00 - 18:00 |
| Wednesday | 08:00 - 18:00 |
| Thursday | 08:00 - 18:00 |
| Friday | 08:00 - 18:00 |
| Saturday | 09:00 - 12:00 |
| Sunday | 00:00 - 00:00 |
10.0 Excellent
14 Sep 2018
Pros:
Easy pickup/easy return. The vehicle was extremely easy to drive and had upgrades such as power lifts to make handling of luggage easy
Pros:
The Hyundai Elantra was an excellent car in very good running condition.
Cons:
Pick-up in Greenville was very, very slow. The agent was distracted and inefficient. Rest room was out of commission.
10.0 Excellent
1 May 2017
Had a great time.
Pros:
Vehicle was awesome.
Cons:
Great fuel economy .
10.0 Excellent
2 Feb 2019
Pros:
Everything was just great.
Cons:
Checked the availability online before I made my plans and booking. They said they had a truck...didn't get my car until almost 2 hours after my reservation and it wasnt even a truck. They should have given us a deal for our troubles but instead it was more of a oh well this is what you get attitude
8.0 Excellent
11 Nov 2016
Courteous and friendly staff but car was dirty
Pros:
Car had no fuel when I picked it up but the staff refueled it for me and allowed me to return it without filling it back up. When I noticed the pet hair I called the rental location to advised them and they placed a note in the rental agreement that I would not be responsible. No hassles upon returning the car despite the 2 snags when I picked it up. Staff was very courteous.
Cons:
- When I went to pick up the car it had no fuel. - Signs on the counter saying that there will be a $150 fine if the car is found to have pet hair or ashes. after getting home and folding the back seats down to pack the car, pet hair all over the floor. - car was generally not very clean on the inside (outside was very clean).
It'd be nice if they actually cleaned the car befo
Pros:
The car was very comfortable
Cons:
The car was only superficially clean. Anything that wasn't easily accessible, like the cup holders and storage compartments was filthy. Also, the car wasn't in great mechanical shape; warning message that it needed an oil change showed up. Also, car appeared to have a questionable fuel injector; acceleration would stutter at times.
Would not rent vehicle
Cons:
Policy did not allow me to rent the vehicle bc I was from another state.
Avis

╳
Avis reviews
Car hire locations
Avis
Locations in Greenville
458 Woodruff Road
+1 864 254 6377
| | |
| --- | --- |
| Monday | 08:00 - 18:00 |
| Tuesday | 08:00 - 18:00 |
| Wednesday | 08:00 - 18:00 |
| Thursday | 08:00 - 18:00 |
| Friday | 08:00 - 18:00 |
| Saturday | 08:00 - 14:00 |
| Sunday | 13:00 - 17:00 |
10.0 Excellent
12 Jul 2019
Pros:
Easy rental process. Polite agent. Clean, comfortable car. I will rent from this agency again !
10.0 Excellent
30 Oct 2016
Wonderful!
Pros:
Car was SO clean- seemed brand new! Very easy to pick up and drop off. Very friendly service!
Cons:
Didn't have promised car or one like it. Price was changed (higher). Insurance sold though kayak was not accepted by rental car company. Huge waste of time and a bigger inconvenience.
Pros:
the return in CLT was fast
Cons:
First off, KAYAK sent me the WRONG address to pick up the car from so I had to call another Uber to take me to the correct address and was a huge waste of time. Then the pick up process took way too long. I put in my reservation days before with a pickup time and I expected my car to be already separated and ready to go requiring only my signature on some paperwork. They only started to LOOK for a car for me when I arrived. It took 45 MINUTES to pick up the car. It seems that only a small team works at the AVIS and they were all busy.
Budget

╳
Budget reviews
Car hire locations
Budget
Locations in Greenville
458 Woodruff Road
+1 864 297 0395
| | |
| --- | --- |
| Monday | 08:00 - 18:00 |
| Tuesday | 08:00 - 18:00 |
| Wednesday | 08:00 - 18:00 |
| Thursday | 08:00 - 18:00 |
| Friday | 08:00 - 18:00 |
| Saturday | 08:00 - 14:00 |
| Sunday | 13:00 - 17:00 |
Pros:
The Staff in Greenville were very friendly and courteous.
Cons:
The car had been used by a smoker and reeked of old cigarette smell. The interior was a little tired and at $95.00 for one days use, it was too expensive.
10.0 Excellent
10 Oct 2018
Pros:
Liked the VW Bettle!
8.0 Excellent
25 Mar 2016
Good customer service
Pros:
The guy in the front desk was very polite and quick.
Cons:
I didn't like the economy car it was very uncomfortable for a long drive. (Ford Fiesta) I was going to be late like 30 minutes for the drop off so i called customer service and the total price went from $67 to like $104. Wow shocker really expensive, I could've got another day!!
9.2 Excellent
27 Apr 2016
Short but sweet
Cons:
Took a while to get the car at budge t.
Car needed work done to it that made my trip harde
Pros:
This is reflected through your specific survey topics listed.
Cons:
The wiper fluid was not only empty but didn't work when it was filled & with snowy/wet road conditions I had to pull over every few miles to clean my windshield. The "get your oil changed soon" notification was also on when I got my car... yes, the interior of the car was comfortable, but these nags didn't make for smooth sailing... it was disappointing.
Rude and ignorant
Pros:
After being extremely stubborn and unhelpful they pointed out the fact that there was an Enterprise across the street from their location.
Cons:
Customer service and the fact that they were offended that I used a third party site to book a rental. Rude and unhelpful will never use budget ever again.
Pros:
The option to rent a decent full-size SUV, Chevy Tahoe.
Cons:
They didn't actually have the SUV I reserved, so I cancelled the reservation and won't do business with them again.
Pros:
Car was fine and met our needs
Cons:
We had searched for pick-up from Greenville Spartanburg airport but the booking we received received required us to pick-up in town. When we picked up the car from the airport, it was $163 more expensive. The person at the desk was unwilling to do anything to assist and the city office was closed.
Ace

Ace
Locations in Greenville
1701 Laurens Rd
+1 864 877 1414
| | |
| --- | --- |
| Monday | 08:00 - 18:00 |
| Tuesday | 08:00 - 18:00 |
| Wednesday | 08:00 - 18:00 |
| Thursday | 08:00 - 18:00 |
| Friday | 08:00 - 18:00 |
| Saturday | 09:00 - 14:00 |
| Sunday | |
69 travellers who rented a car in Greenville gave the car agency they used an average rating of 7.2
Car rental locations in or near Greenville
When to book a rental car in Greenville
Average daily price per month
Car hire prices as pick-up date approaches
Top tips for renting a car in Greenville
A rental car is the perfect way to explore not only Greenville, but also the surrounding region of northern South Carolina. With a car you will be able to freely explore the city's main attractions, such as Falls Park on the Reedy, located in downtown Greenville's Historic West End. Head to Caesars Head State Park, where you'll be surrounded by mountains and majestic nature. It's less than an hour's drive away and you can make as many scenic stops as you please.
All the big car rental agencies, including Alamo, Avis, and Enterprise, can be found at Greenville–Spartanburg International Airport (GSP), which is located in Greer, about 20 minutes northeast of Greenville. The car rental desks are located within the terminal, just across the baggage claim area. If you're arriving by plane, just follow the Baggage Claim signs. The rental cars are typically parked on the first level of the parking garage.
Driving in Greenville is pretty straightforward, as long as you keep an eye out for road signs as well as cyclists, since most areas of the city don't have a designated bike path. Although the coast of South Carolina is hit the hardest during hurricane and cyclone season (June through November), the rest of the state is also at risk. If you're driving in those months, make sure to be extra careful when the weather gets wetter.
Although traffic is manageable, especially when compared to other big U.S. cities, you're better off avoiding rush hour traffic both in the morning (between 7:30 and 10 a.m.) and the afternoon (between 4 and 7 p.m.), especially if you don't want to be stuck in traffic for longer than needed. The I-385 gets quite congested during those times, as do other roads such as Memorial Drive, Greenville Boulevard, and Arlington Boulevard.
Book your rental car in Greenville at least 1 day before your trip in order to get a below-average price
FAQs about renting a car in Greenville
What is the best rental car company in Greenville?
Based on ratings and reviews from real users on KAYAK, the best car rental companies in Greenville are Enterprise (8.5, 12830 reviews), Hertz (7.4, 3935 reviews), and Dollar (7.3, 6412 reviews).
How can I find car rentals near me in Greenville?
Take a look at our extensive car rental location map to find the best rental cars near you.
What type of car is recommended for driving in Greenville?
A small automatic car is the recommended option in Greenville for travelers who don't require much space for passengers or luggage and plan on driving only around the city. But if you're planning on heading to the mountains and lakes, and especially if you're with family or a group of friends, an SUV might be the best option.
What's the speed limit in Greenville?
The speed limit within the city is usually 35 miles per hour (mph), but it may be as low as 30 mph in certain residential areas, so look out for posted signs. Most rural two-lane roads typically have a speed limit of 55 mph, highways have a speed limit of 60 mph, and interstates all have posted speed limits with a maximum of 70 mph.
How are gas prices in Greenville?
The average gas prices in Greenville are approximately $1.92 per gallon. Lower prices can range anywhere between $1.75 and $1.80 per gallon. Try to fill up the tank early in the morning or late in the evening, and avoid doing so on the weekends or on Thursdays and Fridays before long weekends to escape the crowds.
Where are the best places to park in Greenville?
Street parking is plentiful in Greenville, and the city offers many parking facilities that are usually close to the main attractions and shopping spots. The City offers the first hour of parking for free in any of their garages, and drivers must pay $1.50 to park for the second hour and then $1 per hour afterwards, with a maximum of $7.50. Washington Street parking deck offers cheaper rates as well.