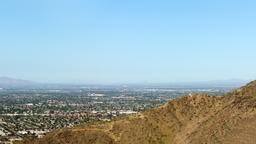 Glendale car rentals
Search hundreds of travel sites at once for car rental deals in Glendale
Glendale, AZ, United States
Glendale car rental information
| | |
| --- | --- |
| Pick-up location | Glendale |
| Rental locations | 5 |
Reviews and directory for self drive car rentals in Glendale
Avis

9.4 Excellent (2 reviews)
╳
Avis reviews
Car hire locations
Avis
Locations in Glendale
6666 West Bell Road
+1 623 878 0113
| | |
| --- | --- |
| Monday | 08:00 - 15:00 |
| Tuesday | 08:00 - 15:00 |
| Wednesday | 08:00 - 15:00 |
| Thursday | 08:00 - 15:00 |
| Friday | 08:00 - 15:00 |
| Saturday | 09:00 - 12:00 |
| Sunday | 08:00 - 12:00 |
10.0 Excellent
26 Apr 2016
Pros:
Wonderful service price and car,
8.8 Excellent
14 May 2017
╳
Hertz reviews
Car hire locations
Hertz
Locations in Glendale
6409 West Glendale Ave Suite A
+1 623 463 2378
| | |
| --- | --- |
| Monday | 07:30 - 18:00 |
| Tuesday | 07:30 - 18:00 |
| Wednesday | 07:30 - 18:00 |
| Thursday | 07:30 - 18:00 |
| Friday | 07:30 - 18:00 |
| Saturday | 09:00 - 12:00 |
| Sunday | |
great experience
Pros:
I was two weeks off with my schedule ( I know...) but Nick found a car for me anyhow. It was not the cleanest but who cares if you are in a bind, right? Very happy and they helped me out tremendously. Super friendly on top of it!!
9.2 Excellent
25 Mar 2017
Spring break
Pros:
Staff was friendly, professional and prompt.
Cons:
The trunk was dirty. It had like a grey ashy material. Maybe cement. I had to put a blanket over it to load my luggage.
Nothing special
Pros:
The person assisting at check-in seemed to understand the frustration about the lack of deposit information and accommodated with a discount on the rental charges.
Cons:
Information about the fact that Hertz charges a $200 deposit upfront is not evident, maybe not even present on the Kayak site, and is buried on the Hertz Web site. And the personnel at the Hertz office where I picked up the vehicle were unable to print any information about how/when the deposit would be returned. It's not included as part of the rental paperwork. Not having known about the deposit requirement before booking the rental, led to a frustrating, time consuming check-in when picking up the vehicle.
Acceptable
Pros:
Love that they picked me up and brought me to the rental location
Cons:
The fuel tank wasn't full but they marked it as such and they charged $$$ for dropping off at a different location from where I picked it up at and wanted over $200 more if I extended 1 extra day
Nice
Pros:
Customer service was good
Cons:
When I dropped off I had to wait as there was only one person up front. My daughter and her 2 week old baby had to wait in the hot AZ sun for me to Finnish!
Cons:
the car was dirty when we got it
8.4 Excellent
19 Oct 2017
Pros:
Pick up and drop off was super easy. Great costumer service. We had the same person help us at pick up and drop off and she waa very friendly. Car was clean and we had no problems at all.
Took a long time.
Pros:
Staff was friendly. Car ran fine.
Cons:
When I first arrived to pick up the car I realized I had forgotten my wallet. That was obviously my fault and I had to wait about 25 minutes for someone to bring it to me. It then took almost another 35 minutes before my vehicle was ready even though I was the only customer in the place. The car I was finally given had only three quarters of a tank of gas.
9.6 Excellent
15 Jan 2018
Pros:
Cleanliness and ease of pickup
Pros:
The gentleman who did our reservation was very nice.
Cons:
The neighborhood of the location seemed a little sketchy.
╳
Enterprise reviews
Car hire locations
Enterprise
Locations in Glendale
4742 West Glendale Ave
+1 623 931 9275
| | |
| --- | --- |
| Monday | 07:30 - 18:00 |
| Tuesday | 07:30 - 18:00 |
| Wednesday | 07:30 - 18:00 |
| Thursday | 07:30 - 18:00 |
| Friday | 07:30 - 18:00 |
| Saturday | 09:00 - 13:00 |
| Sunday | 00:00 - 00:00 |
Let you know
Pros:
They tried to help everyonee , a littlee crazy the day i was tgere
Cons:
I had a longer then expected wait before the truck was ready for me to drive
Terrible Pick-Up Experience
Pros:
Drop-off was nearly painless at the end of the rental.
Cons:
Driver was late to pick me up, then got lost picking up another client before returning to the site for the car. Once I got to the Enterprise site, I waited more than 40 minutes to get my car. Then, it wasn't the car I reserved or wanted (it was a terrible Jeep Patriot).
9.6 Excellent
18 Nov 2018
rental review
Pros:
We were given a great car and it suited our needs perfectly.
Cons:
Windshield wipers needed replacement. But with the little rain you get there, no one maybe noticed this.
10.0 Excellent
14 Feb 2019
Pros:
Staff was great and price was right. Pick up and drop off easy
Pros:
Upon arrival, we had to wait over 40 minutes to get our car. After we did, the car had a strong smell of weed. We told the sales associate about it, he took the car and it was sprayed with a rose deodorant, we took it because we didnt want to wait any longer. After a day with the car, we had to retu
Cons:
We had to go return it and get another one. A 20% was offered and given.
Pros:
Staff was friendly, price was great and car was comfortable
Cons:
The pick up and drop off locations were not open due to coronavirus. Both confirmation emails gave address of closed locations. Car could of been cleaned better, heavy dust/ dirt on dashboard, rocks and dirt on carpets, car windshield was "cleaned" in the parking lot by using the windshield wipers during the pick up inspection. Not by best experience with enterprise.
Budget

╳
Budget reviews
Car hire locations
Budget
Locations in Glendale
6666 West Bell Road
+1 623 878 3698
| | |
| --- | --- |
| Monday | 08:00 - 15:00 |
| Tuesday | 08:00 - 15:00 |
| Wednesday | 08:00 - 15:00 |
| Thursday | 08:00 - 15:00 |
| Friday | 08:00 - 15:00 |
| Saturday | 08:00 - 12:00 |
| Sunday | 09:00 - 12:00 |
8.0 Excellent
25 Mar 2016
Pros:
Car was nice, staff was friendly.
Cons:
It said online that I could rent a gps, but when I got to the location, I was told that they didn't have any. I wish that was posted on the website.
Fair Price , Good Car
Pros:
The price was the best in my area. I was given a nice car and it ran perfect. Very Good MPG. I will go back for my next rental if the price is still the best. Pick up/Drop off was quick.
Cons:
Tire light never went out even when I filled tires to recommended PSI. Seats were stained and the vehicle had a slight smokers smell. The smell didn't bother me but it might to other people. It's a rental car, what do you expect??? I took the option to have the empty tank filled when I dropped it off. It only needed a couple gallons but I was charged $30 for it to be filled. I thought they charged you for the amount they put in....Nope. Oh well, lesson learned!
Cons:
We were given a car that had a leaking back tire. They filled it and sent us on our way. Had to return due to tire warning light turned back on the next day. This is cause of low review.
Pros:
The price wasn't that bad
Cons:
Upon drop off the staff was rude. The vehicle was a Dodge journey and had a blurry backup camera, the backseat was dirty upon pick up, the Bluetooth on the stereo was spotty and kept dropping connection and refusing to reconnect with my phone.
╳
Thrifty reviews
Car hire locations
Thrifty
Locations in Glendale
5044 W Cactus Rd
+1 877 283 0898
| | |
| --- | --- |
| Monday | 07:30 - 17:00 |
| Tuesday | 07:30 - 17:00 |
| Wednesday | 07:30 - 17:00 |
| Thursday | 07:30 - 17:00 |
| Friday | 07:30 - 17:00 |
| Saturday | 08:00 - 13:00 |
| Sunday | |
Pros:
The young man at the pickup counter and the older gentleman who took the car back when I finished were both very pleasant and efficient. I was not happy about the rate change.
Cons:
I was quoted a rate of $71/day on Kayak. When I got there to pick up the car, they said that was not the rate and it was $85.50./day I had the confirmation #, but not the rate printed. So, I had no choice as cars were in great demand the day I needed it. Then, there were almost $100 of surcharges, fees and other taxes. My total bill was $240, when I was expecting around $140. Did not make me a happy camper.
Thrifty rental location not at PHX
Cons:
The car rental counter was not located in the airport terminal. Only after riding the shuttle to the Thrifty counter did I learn the car I rented was inside the city, not at the airport Why would a company advertise a rental for an airport if it is not at the terminal? Completely botched up my plans and caused me to be late for a scheduled engagement a couple of hundred miles away.
8.0 Excellent
22 Jan 2017
Costly
Pros:
Car was clean. Easy pick up with no dragged out inspection.
Cons:
I had a reservation with Fox rental. I was running late and the line was long for the car so I walked over the Alamo which had no one in line. I was able to get a car right away and made it to my appointment. It cost $84 more to rent from Alamo as opposed to Fox. I also saw a car on line for two days I could have rented from Avis that was one upgrade for $100 Nice car from Alamo but not worth the price difference
8.8 Excellent
29 Jan 2017
Pros:
Close location. Good value
Pros:
Clean, well-maintained vehicle.
Cons:
Overcharged. The counter charged us $20 more than our online reservation specified. They refused to adjust the amount.
Disorganized
Pros:
Izabele, the woman working the front desk, was wonderful. I would give her five stars, because she honestly did the best she could. She had called her manager the night before to get the 2 SUVs she needed (one for me, one for another customer). She called him again as soon as I arrived, to find out where they were. She kept on him, and gave me the updates he gave her (just a few minutes more, not long now, soon, etc). It is ABSOLUTELY NOT HER FAULT that her manager did not have the cars to her location when she needed them, or that he did not give her accurate information. She waived the fuel requirement for the rental as compensation for my four-hour wait.
Cons:
The manager did not have the cars at that location when I arrived for my scheduled 8 am pickup. He did not give his counter associate complete information when she called for updates, so from 8 am until nearly NOON, I was told "It should be here soon, just a few more minutes." I could tell she was just as frustrated as I was, especially when the next SUV customer arrived and was told there wasn't one available and may not be one available for quite some time. Apparently there was a tire problem with the car that they wanted to get checked out, which I appreciate, but I would have appreciated it more if he had told Izabele, so she could have let me know, rather than both of us getting annoyed with the manager for taking so long. As for drop-off, I had to do an after-hours drop-off, and there are two sets of instructions on the window with conflicting information, I followed them to the best of my ability, and I hope everything turned out right.
10.0 Excellent
26 Mar 2017
Easy in and easy out
Pros:
I liked the fact they did. To try to upswell me into another vehicle.
Nice persons, but car was a wreck.
Pros:
I really liked both salespersons who worked with me. Personable and helped me with questions.
Cons:
The car. Ford Fiesta seats beat my kidneys to a pulp within first 20 minutes of driving:( Also, car was so loud that I could not make necessary phone calls while driving--even with speakerphone and headphones. Lame!!
I will never rent through Thrifty again.
Pros:
Nothing . I ended up NOT taking the car or renting from Thrifty at all.
Cons:
The customer service wasn't friendly. The car was dirty and smelled bad. The overall outside condition looked worn. The car looked like one you would get from a third-rate used car dealer.
10.0 Excellent
1 Apr 2017
Pros:
Quick return. Easy location.
38 travellers who rented a car in Glendale gave the car agency they used an average rating of 7.2
Car rental locations in or near Glendale
When to book a rental car in Glendale
Average daily price per month
Car hire prices as pick-up date approaches
Top tips for renting a car in Glendale
Book your rental car in Glendale at least 1 day before your trip in order to get a below-average price
FAQs about renting a car in Glendale
What is the best rental car company in Glendale?
Which car rental companies are at the airport: Sky Harbor Intl airport (PHX)?
Which car rental companies will pick you up at the airport: Sky Harbor Intl airport (PHX)?
How can I find car rentals near me in Glendale?