You're Going to Love Leh
The mountainous beauty of Northern India continues its indomitable spirit in the town of Leh. It stands at a crossroads between Tibet, Kashmir and Kashgar. From here, you can go anywhere. But with the great mountain sports and homey Indian cuisine, will you really want to leave?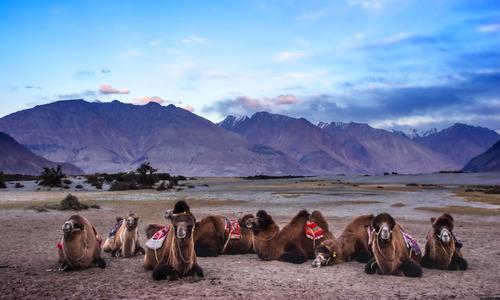 Top 5 Reasons to Visit Leh
1. East Meets... the Far East
From delectable momos to soupy thukkpas, the far east countries of China has left it's mark upon the Indian cuisine, that's perfectly warming for a cool Northern morning.
2. Frolic in the Festivals
The mix of Tibetan customs with an Indian flavor means festivals are abound all year round in Leh. Take part in the colorful ceremonies of Losar, Hemis and Naro Nasjal.
3. Capture Some Incredible Landscapes
Morning, noon or night, Leh's wilderness is part of the town. Amateur photographers will be riveted by the collusion of rivers, mountains, horizons and sunrises they'll see through their viewfinder.
4. Test Your Strength on the Trails
The mountain trails covered in snow and the trekkable peaks like Stok Kangri, Nun-Kun and Kang-Yatse will test your climbing mettle but will reward you with scenic views at the top.
5. Seek Serenity in Buddhist Monasteries
Peace, calm and fresh air await all those who venture to Leh. But when you visit its sacred Buddhist monasteries, you'll be captured with a different kind of man-made beauty, including strange rituals, wonderful music and intricate murals.
When to Visit Leh
When you will want to visit depends on what you want to see. In the summers, when the snows melt, temperatures rise between 68°F and 86°F, and the festivals begin. Winter offers its own charms for those who love mountaineering and trekking. Temperatures drop to 6.1°F.
How to Get to Leh
Plane
Getting into Leh, travelers can land either at Delhi's Indira Gandhi International Airport or the Jammu Civil Enclave airport. From here, snag a bus or hire a car to get to Leh.
Train
You can't take a train to Leh, as the city does not have a railway station nor is it connected to any lines. You can, however, hop on to a truck from Manali for ₹500.
Car
Getting in by car usually means a shared Jeep for hire for ₹1500. You can also travel by taxi from the airport to Leh for ₹500.
Bus
Choose from state-run or privately owned bus services to Leh. Deluxe buses cost ₹2000. State-run buses have several stops along the way and ticket prices are calculated by number of stops.Traveling from Manali to Leh means a fare of ₹130 plus ₹513.
Airlines serving Leh
Show more
Where to Stay in Leh
Stay in luxury and experience novelty at the Tsemarang Eco Camp. Modest accommodations can be found at The Pangong Hotel in the heart of the city. Choose a guesthouse like Zeepata Guest House, if you're on a budget
Popular Neighborhoods in Leh
Leh Palace Rd. - Leh is small enough that there are no neighborhoods per se. On this road, check out the beautiful ruins of the Royal Palace, built in the 17th century.
Fort Rd. - Fort Road has plenty of great resorts, guesthouses and small restaurants for travelers.
Old Leh Rd. - If you're in the mood for a trekking adventure, stop at any of the tour and trek companies here.
Where to stay in popular areas of Leh
How to Get Around Leh
Public Transportation
Leh doesn't really have public transport because you can walk anywhere.
Taxi
Taxis have a fixed price based on destination. Rent a taxi to get around for ₹100 to ₹150.
Car
You can book a car service to get your around from Clear Car Rental for ₹11/mile.
The Cost of Living in Leh
Shopping Streets
Spend the day at Main Bazaar, where you'll find tons of eateries.
Groceries and Other
A quart of milk costs ₹15 and a dozen eggs cost ₹22.
Where to Eat in Leh
For about ₹100-₹260 for mains and ₹180-₹250 for beer and hookah service, "Food Planet" is run by a sweet Russian-Indian couple. This spot has fusion food, like Uzbek shurpa soup, stuffed mushrooms, Tom Yum soup and chicken breast with spicy mango achaar.
Other popular cities in Jammu and Kashmir