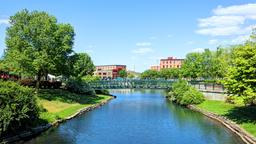 Kalamazoo car rentals
Search hundreds of travel sites at once for car rental deals in Kalamazoo
Kalamazoo, MI, United States
Kalamazoo car rental information
| | |
| --- | --- |
| Pick-up location | Kalamazoo |
| Rental locations | 6 |
| Airport locations | 4 |
Reviews and directory for self drive car rentals in Kalamazoo
Enterprise

╳
Enterprise reviews
Car hire locations
Enterprise
Locations in Kalamazoo
3611 Stadium Drive
+1 269 372 1234
| | |
| --- | --- |
| Monday | 08:00 - 17:00 |
| Tuesday | 08:00 - 17:00 |
| Wednesday | 08:00 - 17:00 |
| Thursday | 08:00 - 17:00 |
| Friday | 08:00 - 17:00 |
| Saturday | 09:00 - 12:00 |
| Sunday | 00:00 - 00:00 |
10.0 Excellent
26 Jun 2017
Cons:
I wish my car had an cruise control. Would have made my trip a lot easier.
Pros:
The staff were very friendly
Cons:
The car that we rented was turned around so quickly, that the cleaning crew missed an obvious spill in the back. As our trip went on & the car sat out in the sun, a rotten milk smell began to consume the car. When we arrived in Wisconsin, we went to an Enterprise there & the kind young man offered to deodorize the car & immediately discovered the spillage spot. He offered to trade the car out the following day, however, when we went back, there were no cars available. He contacted another Enterprise who had a car available, however, we opted to keep the car versus driving to the other rental office as we only had a couple of days left & the odor had decreased.
╳
Hertz reviews
Car hire locations
Hertz
Locations in Kalamazoo
3621 Stadium Dr
+1 269 372 0495
| | |
| --- | --- |
| Monday | 08:00 - 16:00 |
| Tuesday | 08:00 - 16:00 |
| Wednesday | 08:00 - 16:00 |
| Thursday | 08:00 - 16:00 |
| Friday | 08:00 - 16:00 |
| Saturday | |
| Sunday | |
5239 Portage Rd Office P
+1 269 382 4903
| | |
| --- | --- |
| Monday | 08:00 - 19:00 |
| Tuesday | 08:00 - 19:00 |
| Wednesday | 08:00 - 19:00 |
| Thursday | 08:00 - 19:00 |
| Friday | 08:00 - 19:00 |
| Saturday | 12:00 - 16:00 |
| Sunday | 09:00 - 13:00 |
8.4 Excellent
30 Nov 2016
Pros:
AZO is a small airport, i.e. no shuttle needed which is good.
Cons:
It was difficult to find the Hertz cars in the dark, so I had to go back to the rental office and a Hertz colleague showed me the position at the parking lot. Maybe it would be a good idea to have the Hertz signs higher up at the parking lot.
Hertz
Pros:
It was convenient and I don't have to drop thru hoops
Cons:
I order a car and they said I'll be getting a bigger car. I got a compact car very small
Anybody Home?
Cons:
Arrived at the airport on time. No one at the desk for at least 20 min. 9:30pm so was in the process of canceling and switching to Avis when he finally showed up. He left the airport to get something to eat......when he knew the flight was arriving. Not a smart move.
Horriable service
Cons:
Never got the rental they say they were going to call me back but never did my car with was supposed to be available at 12 o'clock but it wasn't they said they'd call back between 4 and 5 but never called me back I think I deserve a free one
Disappointed
Pros:
The hertz rep was pleasant.
Cons:
The car's windows were not clean. The car had an odor. I was also disapoonted with a car that was equipped with a basic radio system, with no backup sceen. There was also no usb plug for my phone.
Nice car...pick-up could have been quicker
Pros:
The car was very nice
Cons:
The Hertz office had only one person checking cars in an out, so the wait and the actual check--out once I got to the desk seemed to take a long time.
Pros:
The pick up was simple and the drop off was as easy as parking and putting the keys in the lock box. The car was very clean and it got the job done.
Cons:
Perhaps I should have read all the fine print before deciding to rent the car, but the $200 hold on my card was unexpected. It returned to my account the day I dropped it off, but it caused a cash flow issue and I had to put off writing a check because of it.
8.4 Excellent
22 May 2017
Staff was wonderful!!! Thanks Liz
Pros:
Liked the great and fast customer service
Cons:
Didn t like that kayak allows over booking putting the hertz staff in a stressful situation
9.2 Excellent
18 Jul 2017
Good place to rent from
Pros:
The rental location was clean, the rep that helped us did a fine job, and it was a good experience.
Cons:
Hertz has a $200 deposit even when you use credit cards, which budget does not, and i did not like.
Pros:
Nice car, easy check in and out process.
Cons:
I tried to change my drop off location to the airport from an offsite location about a 10 minute drive away so I didn't have to find a cab at 5AM. I had to call the hotline twice because I kept getting transferred to the wrong department. I finally spoke with someone who quoted me $200 additional to my rental to change the drop off location at the exact same date and time to the airport. That was the cost of another week's rental. I repeated the information just to be sure it was accurate and they said yes. That is ridiculous.
╳
Budget reviews
Car hire locations
Budget
Locations in Kalamazoo
5235 Portage Road
+1 269 381 0617
| | |
| --- | --- |
| Monday | 07:00 - 19:00 |
| Tuesday | 10:00 - 18:00 |
| Wednesday | 10:00 - 18:00 |
| Thursday | 07:00 - 19:00 |
| Friday | 07:00 - 19:00 |
| Saturday | 08:00 - 14:00 |
| Sunday | 08:00 - 14:00 |
8.0 Excellent
30 Aug 2016
Pros:
The drop off was very easy
Easy rental, great price
Pros:
Easy/quick pick up and drop off, great price
Cons:
Car smelled strongly of cigarettes and whatever you used to try to cover cigarettes up. It was really awful and if I had more time I would've tried to trade it for a different car.
Switching to Enterprise
Cons:
12:30 AM at DTW - waiting in line for 45 minutes to get a car. Only one person working behind the counter. Two other people (including a manager) did not have a willingness to help move along the line. When I said it seemed unreasonable for a Fastbreak customer to wait 45 minutes in line - the employee simply stated there is nothing he could do about it. Poorly trained customer service and an unwillingness to make any difference in the situation. This person was not trained well and I believe it is a culture at Budget. I would use Budget because of a price point advantage - it's no longer worth it to me.
Pros:
Nice agent but didn't know how to add an option to the rental
Cons:
Car was inaccessibly buried in snow. I got soaked digging it out. Tried to call to add option over phone. Cs was uncaring
Cons:
Have the car I wanted Have educated associate
10.0 Excellent
6 Jul 2019
Cons:
It was a great experience overall.
Pros:
it was ok, it would be great if there was a more expedited way to return the vehicle.
Cons:
The car I received was pretty basic, not what I usually get in the same categories from other companies. The vehicle had over 25k miles o it and the tires were worn making it unsafe to travel in the snow with.
10.0 Excellent
23 Dec 2019
Cons:
I extended my lease for three days because my own car was still in the shop. I thought the price for the extra days was excessive.
9.2 Excellent
16 Apr 2020
Cons:
This fee for people under 25 is extreme. However, I know this isn't a company-specific issue.
╳
Avis reviews
Car hire locations
Avis
Locations in Kalamazoo
5235 Portage Road
+1 269 381 0555
| | |
| --- | --- |
| Monday | 07:00 - 19:00 |
| Tuesday | 07:00 - 19:00 |
| Wednesday | 10:00 - 18:00 |
| Thursday | 10:00 - 18:00 |
| Friday | 07:00 - 19:00 |
| Saturday | 08:00 - 14:00 |
| Sunday | 08:00 - 14:00 |
Was unable to rent
Cons:
It needs to be stated clearly about debit policy BEFORE you reserve a rental. Lady at desk was rude. I had my rental reserved for a week and then was just told no once I got there because I didn't have my credit card only had my Visa debit card along with plenty of money to rent. Had Hertz not been able to rent to me, and cut my rental down by $100, I would've been stranded. I literally had to search online for the policy after the fact that went over the debit/credit issue and it still was not stated in a manner for customers to understand that don't deal with renting regularly.
Cons:
The van was very dirty
Cons:
The arrogant desk clerk at time of rental
10.0 Excellent
19 Jul 2017
Great fast service
Pros:
Attendant was helpful and fast, I was in and out with my car in what seemed like two minutes.
Cons:
One things that would be very helpful is if the attendant could take down the new credit card information as I pick up the vehicle. Doing it at a busy airport during drop off is not necessarily the best option.
jacked up price
Cons:
when I got to counter they were trying yo charge me $100 more than my original quote....whats up with that.
Cons:
They did not have any cars, despite multiple calls in advance to ensure that the large SUV we reserved would be available for our move. Luckily, we made a separate reservation at Hertz as a backup and they had the vehicle we needed without any problems.
Pros:
Counter attendant was exceptionally friendly and fast.
Cons:
Car was dirty and smelled like someone tried to cover up cigarette smoke with a nasty air freshener. So we had a mixture of old cigs and cheap air bomb. Also, the car had not been vacuumed or washed. For our 10-hour drive, I washed off all the windows, headlights, and tail lights.
Rental for a day
Pros:
It is so easy and pleasant to pick up a car in Kalamazoo from Avis
Cons:
This particular car didn't have an arm rest for the driver. I'm glad I didn't have a really long drive I was given an upgrade and I think I would have been fine with the car I had reserved
Really quick check-in. Trouble with the car was worked out quickly.
Pros:
The check-in was lighning fast and they didn't go through the whole rigamarole of offering refuelling options which are too expensive and insurance I don't need. Minimum legal liability was included. I'd thought this was the case with all rental agencies, but it isn't; Avis was a big money-saver compared to a cheaper agency I used in LA.
Cons:
The first car I got, the thermostat / audio display didn't work. It was remedied quickly, as I quickly got another car of the same model.
Pros:
NOTHING, I was disturbing the clerk because he was reading a book which was much more interesting than dealing with customers! Like so many of "Customer Service Specialist" today, he was so well versed he what he couldn't do yet had no clue as to what effort he could make. He was so busy working that he didn't have time to do his job. Dealing with the young lady that came in later was an experience. How is it that we hire so many people with English as a second language that is it almost impossible to communicate in out own country.
Easirent

Easirent
Locations in Kalamazoo
Kalamazoo-Battle Creek International Airport
| | |
| --- | --- |
| Monday | 00:01 - 23:59 |
| Tuesday | 00:01 - 23:59 |
| Wednesday | 00:01 - 23:59 |
| Thursday | 00:01 - 23:59 |
| Friday | 00:01 - 23:59 |
| Saturday | 00:01 - 23:59 |
| Sunday | |
48 travellers who rented a car in Kalamazoo gave the car agency they used an average rating of 7.0
Car rental locations in or near Kalamazoo
When to book a rental car in Kalamazoo
Average daily price per month
Car hire prices as pick-up date approaches
Top tips for renting a car in Kalamazoo
Book your rental car in Kalamazoo at least 1 day before your trip in order to get a below-average price
FAQs about renting a car in Kalamazoo
What is the best rental car company in Kalamazoo?
How can I find car rentals near me in Kalamazoo?