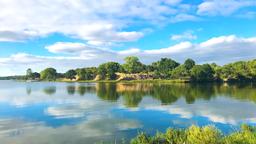 Overland Park car rentals
Search hundreds of travel sites at once for car rental deals in Overland Park
Overland Park, KS, United States
Overland Park car rental information
| | |
| --- | --- |
| Pick-up location | Overland Park |
| Rental locations | 9 |
Reviews and directory for self drive car rentals in Overland Park
╳
Avis reviews
Car hire locations
Avis
Locations in Overland Park
7218 West 121st Street
+1 913 663 0290
| | |
| --- | --- |
| Monday | 07:00 - 18:00 |
| Tuesday | 07:00 - 18:00 |
| Wednesday | 07:00 - 18:00 |
| Thursday | 07:00 - 18:00 |
| Friday | 07:00 - 18:00 |
| Saturday | 10:00 - 14:00 |
| Sunday | 08:00 - 13:00 |
8223 Metcalf Avenue
+1 913 642 1720
| | |
| --- | --- |
| Monday | 07:00 - 18:00 |
| Tuesday | 07:00 - 18:00 |
| Wednesday | 07:00 - 18:00 |
| Thursday | 07:00 - 18:00 |
| Friday | 07:00 - 18:00 |
| Saturday | 10:00 - 14:00 |
| Sunday | 08:00 - 13:00 |
10.0 Excellent
1 Dec 2015
Pros:
Everything. Easy. Quick. Car was clean. Staff was knowledgable.
Cons:
spent 650.00 dollars in 2 week period no breaks or deals just rude people and exspensive cars .
Understaffed!
Pros:
When I was finally able to talk with the staff, the process went well.
Cons:
I tried three times to get a receipt for my rental. Each time there was only one person for intake and drop off and I was third in line. This person was also taking calls.
10.0 Excellent
25 Jun 2019
Pros:
Ease of getting rental
Pros:
Staff wasnt as pleasant
10.0 Excellent
9 Apr 2016
Avis always delivers
Pros:
Simple and fast car pickup, clean vehicle, no hassle itinerary changes and easy drop off. Thank you Avis!
10.0 Excellent
27 Jun 2019
10.0 Excellent
29 Jan 2020
Pros:
Staff was friendly and informative
Cons:
It was a good experience
╳
Budget reviews
Car hire locations
Budget
Locations in Overland Park
7501 West Shawnee Mission Pkwy
+1 913 262 2926
| | |
| --- | --- |
| Monday | 07:30 - 18:00 |
| Tuesday | 07:30 - 18:00 |
| Wednesday | 07:30 - 18:00 |
| Thursday | 07:30 - 18:00 |
| Friday | 07:30 - 18:00 |
| Saturday | 10:00 - 14:00 |
| Sunday | |
7540 West 119th Street
+1 913 696 1269
| | |
| --- | --- |
| Monday | 07:30 - 18:00 |
| Tuesday | 07:30 - 18:00 |
| Wednesday | 07:30 - 18:00 |
| Thursday | 07:30 - 18:00 |
| Friday | 07:30 - 18:00 |
| Saturday | 10:00 - 14:00 |
| Sunday | 12:00 - 16:00 |
10.0 Excellent
19 Jul 2016
Rental
Pros:
Fast and convenient location. Very nice Suv and cheap rental.
Pros:
Rented a minivan for a long family vacation to Charleston, SC. The cleanliness of both vans was as you'd expect.
Cons:
Had to wait 1 hour past my reservation time to pick-up vehicle, and I was astounded that I had to pullover before leaving KC to put air in a tire. Then had to stop in Mt. Vernon, IL to refill tire, only to fine it had loss 80% of its air. Had to drive to Nashville, TN, nearest place to trade out vehicle, arriving at 11:45 pm. No fun moving 2 car seats while your kids are sleeping! Spent 45 minutes on paperwork and moving all our luggage.
Terrible experience
Cons:
We had a group of people to take on a trip and even though I had a printed confirmation they had no record of the reservation and no van for us to rent. It was too late on a Saturday to make alternate range meets.
10.0 Excellent
31 Jan 2017
Great Ride
Pros:
That Chevy Impala is a beautiful car inside and out great ride all the way to Atlanta
Cons:
Not so much dislike but what we would have liked was a rear camera or cd player but we worked it out with our phones
9.2 Excellent
23 Apr 2017
Pros:
They worked with me. When I didn't care for the car they planned to give me they switched it with no problem. Made it fairly quick, easy and was a very clean office. Car was clean & a full tank.
Cons:
Didn't know they wouldn't​ take a debt card without a current utility bill. Being from out of town, I didn't have any bills on me. The hours of office were different than what was shown on line.
Inexpensive but filthy
Pros:
Agent was personable in spite of being the only employee on duty and having to clean the car herself.
Cons:
Car wasn't ready at pickup time. Car was filthy and had to wait for the only employee to go wash and vacuum it, which was done sloppily. The car reeked of old cigarette smell even though labeled as non-smoking. Agent said she didn't smell anything but would note my observation. This made the seven hour trip rather unpleasant.
Pros:
The car achieved good gas mileage.
Cons:
I had reserved a ford Taurus or a dodge charger but when I went to get the car the only thing they had was a dodge journey or a Toyota 4runner neither of which was even close to what I had reserved. They said they would upgrade me to a Lexus at no charge if I was willing to drive the dodge journey to the Shawnee mission location so I agreed expecting the lexus to be a luxury sedan. It turned out to be a qx30 which was more of a all wheel drive crossover sports car which I would not have gone for knowing this. The car had not been cleaned especially on the inside. It had what appeared to be soda spilt on the drivers side door panel, on the passenger seat and on the rear seat. The rear seat door panels had mud on them and the seats had colored crumbs that looked similar to m&m crumbs. This put me an hour behind schedule with a car I did not want and dirty to boot. I had expected the car of this level to have navigation but it did not so I was forced to use my cell phone to navigate. Things went pretty well until I had to stop for fuel. The access door for the fuel cap would not open. I finally got it open and found a wad of paper in it. After removing the paper it worked fine. I am relocating overseas so I was going to the Washington state area to visit my daughter before going. They get a lot of rain up that way. The streets were wet and a lot of splatter was getting on the windshield and when I went to run the window washer the wiper smeared the windshield and I could not get it to pump any window washer fluid and I had to pull over and pick up some window wash fluid. I filled the reservoir. I could hear the pump pumping but it would never pump any fluid. This was a major safety issue in an area that gets a lot of rain. Oh and I almost forgot , I no more than drove off the lot and I had a tire pressure alarm. The right rear tire was 6 lbs low on air so I had to stop and add air to it. I had got into a heavy downpour in Sturgis Wyoming and it just happened to be near the cycle rally time. I was going down the highway surrounded by motorcycles and it started to rain. The windshield had a film on it and I was driving blind. I had to pull over and wait for the rain to let up and then had to find a store and purchase some windex and paper towels to clean the windshield. It was terrifying driving down the highway knowing there were cyclist all around me and I could not see anything . It was a miracle that I was able to get off the highway without causing a serious accident. I feared getting into more rain and not being able to see and so I brought the car back two days early. I really expected to get some credit for the rental since I brought it back two days early because of safety issues . If all this was not bad enough, when I turned the car in I was explaining to the fellow all the issues with the car , Ashley who was the person at the Shawnee Mission location where I picked the car up from said that she had cleaned the car 10 minutes befor
Great experience!
Pros:
I rented through a different Budget location last year, and this year's experience was superior. Great customer service both picking up and returning the vehicle.
Cons:
It took me a long time to figure out the technology in the vehicle (the map, the serius radio, the gas gauge, etc.... even the headlights!). This was no fault of the rental car company, of course. It just took me a while to get acclimated. No complaints.
10.0 Excellent
9 Jun 2019
Pros:
Very friendly staff, process was very easy, van was really nice and comfortable.
Cons:
I didn't get a vehicle. There were only two vehicles available and I was only eligible to get a van. I requested a car for gas mileage and a van was not an option. Also, there was only 1 staff member working. Poor management at that location.
Enterprise
3 locations in Overland Park
╳
Enterprise reviews
Car hire locations
Enterprise
Locations in Overland Park
10661 Metcalf
+1 913 642 9669
| | |
| --- | --- |
| Monday | 08:00 - 17:00 |
| Tuesday | 08:00 - 17:00 |
| Wednesday | 08:00 - 17:00 |
| Thursday | 08:00 - 17:00 |
| Friday | 08:00 - 17:00 |
| Saturday | 09:00 - 12:00 |
| Sunday | 10:00 - 13:00 |
14873 Metcalf Ave
+1 913 402 1322
| | |
| --- | --- |
| Monday | 08:00 - 17:00 |
| Tuesday | 08:00 - 17:00 |
| Wednesday | 08:00 - 17:00 |
| Thursday | 08:00 - 17:00 |
| Friday | 08:00 - 17:00 |
| Saturday | 09:00 - 12:00 |
| Sunday | 00:00 - 00:00 |
7800 Metcalf
+1 913 383 1300
| | |
| --- | --- |
| Monday | 08:00 - 17:00 |
| Tuesday | 08:00 - 17:00 |
| Wednesday | 08:00 - 17:00 |
| Thursday | 08:00 - 17:00 |
| Friday | 08:00 - 17:00 |
| Saturday | 09:00 - 12:00 |
| Sunday | 00:00 - 00:00 |
There was no car available.
Pros:
The did not have a car for us.
Cons:
There was not car available when we arrived at the scheduled time.
10.0 Excellent
20 Nov 2016
Great Staff and Savings
Pros:
I saved over $150 by renting from Enterprise in Overland Park instead of at the airport. The staff was fantastic and very helpful. They bent over backwards to be nice and accommodating.
Made it Right
Pros:
When I called about the bad oder and large stain they were very good about exchanging the car. Even though they only had a 4x4 truck available there was no extra charge and they gave me a free tank of gas to help compensate for the lower milage the truck got instead of an economy car. I would definitely rent from them again.
Cons:
The car I picked up had a weird oder. When I got home and opened the hatch up I saw a large white stain and the smell was a lot stronger. It looked like someone's cooler had been left in their and rotted. I did not want to put my suitcases in there.
Pros:
Everything that was agreed to online,,they did their best to not honor it
Ridiculous qualifications to rent a car!
Cons:
The reps on site in Kansas City refused to rent us the car we reserved as we didn't have state of Missouri issued drivers licenses- we flew in from Minnesota! We will not be renting from Enterprise in the future!
10.0 Excellent
27 Feb 2017
Pros:
Very friendly staff, free upgrade, nice car. No pressure. In and out. Everything I wanted.
10.0 Excellent
18 Mar 2017
top notch customer service
Pros:
not only did enterprise offer the. est rate, but they gave us vip service. they made everything easy, they took care of us quickly and efficiently. i will never go anywhere else!
10.0 Excellent
10 Oct 2016
Pros:
Excellent service representative was efficient courteous and friendly
8.4 Excellent
11 Oct 2016
Pros:
Loved the price. Car was roomy
Cons:
Car was not ready when I got there and had to wait another hour before the correct car was there. I had even called the day before.
KAYAK's fault
Cons:
When I requested MCI (Kansas City airport) you sent me to an Enterprise 20 minutes away from the airport.
╳
Hertz reviews
Car hire locations
Hertz
Locations in Overland Park
7271 W 105th
+1 913 381 5519
| | |
| --- | --- |
| Monday | 08:00 - 16:00 |
| Tuesday | 08:00 - 16:00 |
| Wednesday | 08:00 - 16:00 |
| Thursday | 08:00 - 16:00 |
| Friday | 08:00 - 16:00 |
| Saturday | |
| Sunday | |
8130 Metcalf Avenue
+1 913 341 1782
| | |
| --- | --- |
| Monday | 08:00 - 16:00 |
| Tuesday | 08:00 - 16:00 |
| Wednesday | 08:00 - 16:00 |
| Thursday | 08:00 - 16:00 |
| Friday | 08:00 - 16:00 |
| Saturday | |
| Sunday | |
inaccurate information
Pros:
I confirmed a rental through priceline to pick up a car on a Thursday and return Sat. at 5 pm. As we were completing the paperwork, we were told it would cost [more than!] twice as much because the office closed at noon Sat. and was closed on Sunday. We had no choice but to rent a car for TWO days that we didn't need even though all our paperwork and confirmation agreement was different. We are requesting a refund, which is causing us all sorts of problems. Hertz says it's price line's fault.
Still waiting for a credit for an early return.
Pros:
Great gas mileage and great rate.
Cons:
Back window of car was filthy at pickup. At first I thought it was humidity but it was dirt. Drivers seat was very uncomfortable, but it was a cheap car with a cheap rate. I rented for two weeks, Tuesday until Tuesday. I returned the car on Saturday after hours but called before the return. I was assured that I would be credited for the early return. I called again a week ago and was told the credit would take a couple days. Still waiting for my credit from Hertz. The rental desk could not look up my Hertz Gold card number and I called in during my rental and no one could credit my gold card with the rental. Incompetent.
Cons:
Overland Park is 30 minutes from the airport. I didn't know that. I used another company.
Cons:
Over charged for tolls. Went through toll road where they send bill to the license plate holder, there was no other option. Hertz didn't call, email, or notify me in any way. I highly doubt the toll was 30.90$ No explanation given, just charged my credit card. Wont go back.
8.4 Excellent
12 Jun 2017
Kayak Price Misleading
Pros:
Vehicle was comfortable and clean. Pickup and drop off fairly easy. Had to add extra days to the Kayak rental as location was closed on Sunday.
Cons:
Price Kayak quoted was not actual cost. Rental location was closed on Sunday so ended paying for two additional days.
Cons:
They tried to charge we twice when I asked to add an additional driver.
10.0 Excellent
21 Nov 2017
Pros:
Counter servicd was exceptional.
Not bad but not good
Pros:
The associate was very nice. The car was clean and drove well even though it was a little compact
Cons:
I wish the rental location was open later as I got charged an extra day. I wanted to pick the car up at 7pm and return the next day which would have worked perfectly but the location closed at 6pm. Ugh
Pros:
They were closed at the time we were told to pick up the vehicle! We had to drive to the airport to get a car.
Cons:
It would be great if Hertz and Kayak comminicated better so that the needed information was given to the customer when booking online. We ended up having to cancel our Kayak reservation and book directly through Hertz because of this issue which took about an hour to resolve.
43 travellers who rented a car in Overland Park gave the car agency they used an average rating of 6.8
Car rental locations in or near Overland Park
When to book a rental car in Overland Park
Average daily price per month
Car hire prices as pick-up date approaches
Top tips for renting a car in Overland Park
Book your rental car in Overland Park at least 1 day before your trip in order to get a below-average price
FAQs about renting a car in Overland Park
How can I find car rentals near me in Overland Park?